Clarksville, TN – The Austin Peay State University (APSU) softball team will have its month-long road trip to open the 2020 season come to an end this weekend, as the Govs make the short jaunt to Bowling Green, KY, to participate in the Western Kentucky Hilltopper Spring Fling.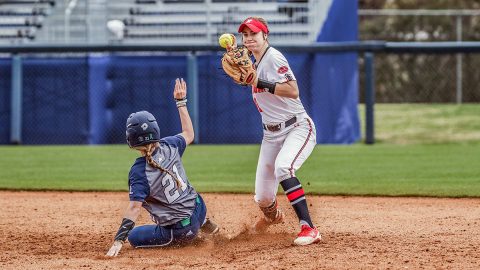 The Govs (4-7) will open play at the WKU Softball Complex on Friday versus Illinois State at 12:30pm, followed by a matchup against tournament host Western Kentucky at 5:30pm.
The APSU Govs complete round-robin play, 10:00am, Saturday with a game versus IUPUI, with their second game of the day's opponent and start time depending on their seed, with the No. 1 seed taking No. the No. 4 seed, at 3:00pm, and the 2 and 3 seeded team playing at 5:30pm.
The tournament will conclude on Sunday, with a, 11:00am, consolation game, while the championship game is slated to begin at 1:30pm.
After their first 11 games, the APSU Govs have four players hitting .300-or-better, led by Bailey Shorter's .351 batting average, which includes two double and five RBIs.
Following Shorter are Lexi Osowski (.333, 1 HR, 4 RBI), Brooke Pfefferle (.333, 1 HR, 2 RBI) and Emily Harkleroad (.300,1 2B, 3 RBI).
In the circle, freshman Shelby Harpe leads Austin Peay State University with a 3-5 record and a save in 34.2 innings of work, while sophomore Harley Mullins comes into the weekend with a 1-2 record, after working 29.2 innings this season.
Scouting the opponents
Illinois State: The Redbirds (6-7) enter the weekend having won their last four games, including all three of their contests last weekend at the Florida Atlantic Tournament.
Offensively, ISU is led by the one-two punch of Emme Olson (.400, 2 HR, 14 RBI) and Mack Leonard (.383, 5 HR, 12 RBI), while Morgan Day leads their pitching staff with a 3-2 record, including a 3.35 ERA and 58 strikeouts on 39.2 innings pitched.
[40center]
IUPUI: The Jaguars (3-7) come into the weekend having lost six of their last seven games, including a 1-4 showing last weekend at UTEP's tournament.
Offensively, IUPUI is led by Rachael Gregory's .481 batting average, which includes three doubles, five RBIs and a team-leading nine runs scored, while in the circle, Kayana Diederich leads their staff with a 2-1 record, with a 5.40 ERA.
Western Kentucky: The Hilltoppers enter their second straight home tournament with a 11-4 overall record after going 3-2 last weekend in the WKU Hilltopper Classic.
Offensively, the Hilltopper are led by Taylor Davis and Kennedy Sullivan, who enter the weekend hitting .419 and .396 respectively, with Davis having scored 11 runs this season and Sullivan having collected five double and three home runs, while driving in 16. In the circle, Kelsey Aikey leads the team with a 6-2 record, including a 1.28 ERA and 75 strikeouts in 49.1 innings pitched.
APSU Govs Hit-and-Run
This weekend's tournament will mark the sixth time the APSU Govs have played in a tournament hosted by Western Kentucky, the last coming in 2018.
The last time the Govs played games versus Illinois State and IUPUI it came at the 2017 WKU Spring Fling Tournament.
This weekend's tournament marks the 14th time in the program's 35-year history where they will have played a tournament in the state of Kentucky.
Austin Peay State University is 9-12 overall in its previous five tournaments played at Western Kentucky.
This weekend's tournament will be a homecoming of sorts for two Govs, with junior Katelyn Smith and freshman Alex Grubbs hailing from the Bowling Green area.