Nashville, TN – Rotarians from Middle and West Tennessee raised more than $2.3 million for local service projects at the inaugural Million Dollar Dinner held February 22nd, 2020 at Music City Center in Nashville.
"Our focus was on creating an endowment fund to support community service projects within our Rotary district," said Robert Huffman, District Governor for fiscal year 2019 – 2020.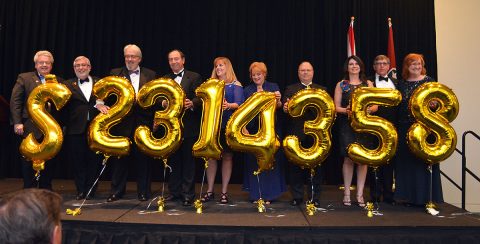 "We began planning this event two years ago, promoting the effort to donors and building a legacy endowment. These funds raised will be used to do good in the world, in charitable, educational or other avenues of community progress," Huffman stated.
The event's goal was to raise $1 million. The final total was $2,314,358, raised through individual gifts and contributions from 36 clubs in the district, which will be invested back into service through Rotary International's six areas of focus: peace and conflict prevention/resolution, disease prevention and treatment, water and sanitation, maternal and child health, basic education and literacy and economic and community development.
Rotary International President Mark Daniel Maloney – who, with his wife, Gay, attended Vanderbilt Law School – was the keynote speaker for the evening. The Maloney's had just returned from an eleven day trip through India, Egypt, Portugal and Sri Lanka.
"As we travel the globe representing Rotary we see first hand the good we Rotarians are doing around the world," Maloney said. "We are building clean water wells, building sanitation blocks, and eradicating Polio. The day will come when Rotary and our partners have eradicated Polio from the face of the earth. It will be only the second disease behind small pox to be eradicated."
After Maloney's comments he was presented a $500,000 check for the End Polio Now campaign. The check represented the proceeds from the efforts of local Rotary clubs and matching funds from by the Rotary Foundation with the Bill and Linda Gates Foundation.
Huffman said local Rotarians created a legacy through their contributions.
"Prior to the start of this campaign, Rotarians in District 6760 had contributed about $2 million to The Rotary Foundation, for as long as Rotary's database has been tracking gifts," said Celeste Herbert, TRF's Regional Major Gifts Officer. "You managed to more than double that within the span of a few months – 2,314,358 does not simply calculate the dollars that have been raised, it adds up to 2,314,358 ways you have made a difference."
For more about the ways in which Rotary's District 6760 invests in West and Middle Tennessee, see www.rotary6760.org