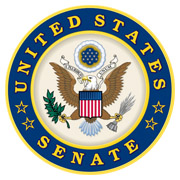 Washington, D.C. – I introduced legislation that will help hospitals in Tennessee keep up with the cost of providing care and help curb the trend of rural hospital closures by setting an appropriate national minimum for the Medicare Area Wage Index. Learn more about this legislation here.
The U.S. Department of Health and Human Services announced more CARES Act funding – $35 million is headed to two Tennessee hospitals that have treated a higher number of COVID-19 Coronavirus patients, Vanderbilt University Medical Center ($24.8 million) and Sumner Regional Medical Center ($10.6 million).
«Read the rest of this article»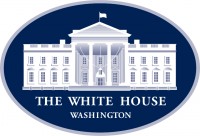 Washington, D.C. – On this National Nurses Day, we should all take a moment to reflect on the dedication of America's incredible healthcare workers. While their selflessness is evident each day, the risks and challenges of the job are on full display during this pandemic.

First Lady Melania Trump shared a video message today to thank nurses for slowing the spread of COVID-19 Coronavirus and saving many American lives.
«Read the rest of this article»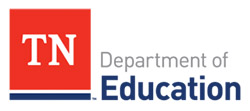 Nashville, TN – The Tennessee Department of Education and the Tennessee STEM Innovation Network (TSIN) today announced 22 schools received the Tennessee STEM School Designation for 2020.
The honor recognizes schools for their commitment to promoting and integrating STEM and/or STEAM (science, technology, engineering, arts, and mathematics) learning for all students that ultimately prepares them for post-secondary college and career success in the 21st century.
«Read the rest of this article»
Steve Underwood steps back from Full-Time Role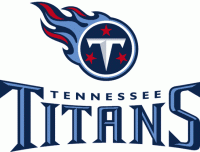 Nashville, TN – The Tennessee Titans elevated Burke Nihill to team President/CEO after being informed last month that current President/CEO Steve Underwood would be retiring from a full-time role. Underwood will remain as a Senior Counselor for the organization.
"I want to start by thanking Steve personally on behalf of myself and my family" said Amy Adams Strunk, Titans Controlling Owner. "Steve's remarkable 40-year Oilers/Titans career places him among the titans of professional sports executives. His dedication to our franchise is unmatched and I am glad he will remain with us as a Senior Counselor.
«Read the rest of this article»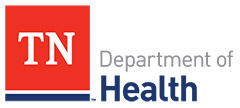 Nashville, TN – The Tennessee Department of Health (TDH) reports that there have been 14,768 confirmed cases of COVID-19 Coronavirus in Tennessee as of Saturday, May 9th, 2020. That is an increase of 327 cases from Friday's 14,441. There have been 242 deaths in Tennessee because of the virus.
Eleven new cases of the COVID-19 Coronavirus have been reported in Montgomery County. The total is at 172. There has been two deaths in Montgomery County due to the virus.
«Read the rest of this article»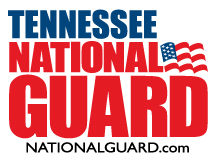 Nashville, TN – C-17 and KC-135 aircraft from the Tennessee Air National Guard will salute the state's medical professionals and first responders during a statewide flyover Tuesday, May 12th, 2020.
The flyover, which is part of normal flight crew training and maintaining pilot proficiency, will coincide with National Nurses Week which ends May 12th.
Aircraft from the 164th Airlift Wing (C-17) in Memphis and the 134th Air Refueling Wing (KC-135) in Knoxville will fly over dozens of hospitals and healthcare facilities throughout the state. The full list of flyover locations and approximate times are listed below.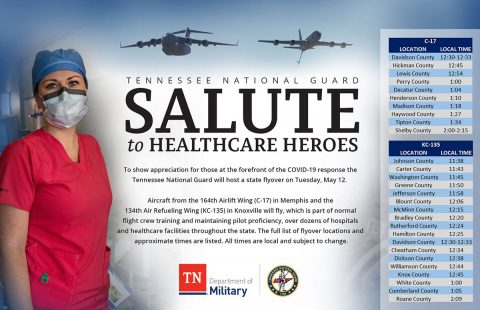 «Read the rest of this article»

Silver Spring, MD – The U.S. Food and Drug Administration (FDA) is providing an update on the agency's efforts to combat the extremely concerning actions by companies and individuals that are exploiting or taking advantage of widespread fear among consumers during the COVID-19 Coronavirus pandemic.
«Read the rest of this article»

Clarksville, TN – Because of the hardships caused by the COVID-19 Coronavirus pandemic on college students, Austin Peay State University (APSU) has announced the creation of a special scholarship to help all APSU students enrolled in summer courses.
«Read the rest of this article»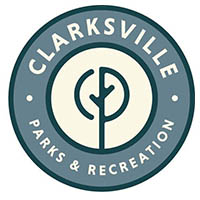 Clarksville, TN – Clarksville Parks and Recreation is seeking to engage citizens in a historical documentation project about how the novel coronavirus pandemic has affected life in Clarksville.
Tracy Jepson, Historical Interpreter at Fort Defiance Civil War Park and Interpretive Center, has designed a project titled "Clarksville and COVID-19: Saving Our Stories."
Jepson is looking for local people who would be willing to share their COVID-19 Coronavirus pandemic stories.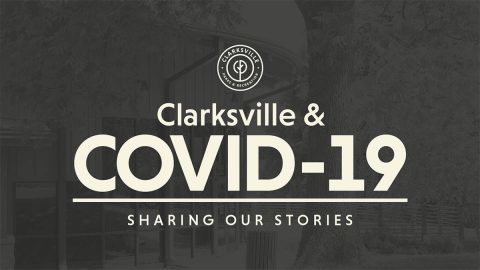 «Read the rest of this article»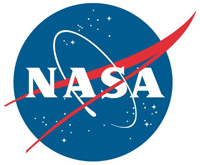 Greenbelt, MD – NASA's Hubble Space Telescope and the ground-based Gemini Observatory in Hawaii have teamed up with the Juno spacecraft to probe the mightiest storms in the solar system, taking place more than 500 million miles away on the giant planet Jupiter.
A team of researchers led by Michael Wong at the University of California, Berkeley, and including Amy Simon of NASA's Goddard Space Flight Center in Greenbelt, Maryland, and Imke de Pater also of UC Berkeley, are combining multiwavelength observations from Hubble and Gemini with close-up views from Juno's orbit about the monster planet, gaining new insights into turbulent weather on this distant world.
«Read the rest of this article»