Evansville, IN – The Austin Peay State University (APSU) men's tennis team saw its season come to an end in the semifinals of the Ohio Valley Conference Men's Tennis Championship, as the Governors fell to No. 1 seed Tennessee Tech, 4-1, at the Evansville Tennis Center.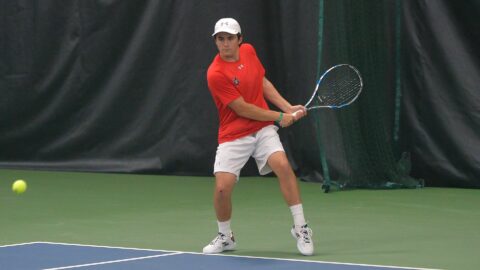 With just five Tennessee Tech players available to play due to COVID-19 protocols, Austin Peay State University's Thiago Nogueira and Gabriel Nolasco Pozo won by forfeit in No. 3 doubles to start the match and give the APSU Govs an early advantage.
However, the Golden Eagles were able to knock off Frederic Schlossmann and Anton Damberg in No. 1 doubles and then beat Oliver Andersson and Jacob Lorino in No. 2 doubles to claim the doubles point.
After dropping the doubles point, the match was tied 1-1 to start singles play after Nogueira once again won by forfeit in the No. 6 singles match. But the No. 1 singles match was the first to go final and Tennessee Tech claimed a 2-1 advantage when Carlos Vicente knocked off Schlossmann in No. 1 singles.
The No. 2 singles match was next on the board and the Golden Eagles picked up another point when Evzen Holis downed Andersson. With the Governors trailing 3-1, Tennessee Tech was able to score the match-clinching point when Andre Rodeia knocked off Lorino in No. 4 singles to end the match.
With the match already decided, Damberg and Nolasco Pozo trailed in the No. 3 and No. 5 singles matches, respectively, but they were left unfinished.
Results
Doubles
1. Evzen Holis/Jun Sasagawa (TTU) def. Frederic Schlossmann/Anton Damberg (APSU) 6-2
2. Carlos Vicente/Rafael Tosetto (TTU) def. Oliver Andersson/Jacob Lorino (APSU) 6-2
3. Gabriel Nolasco Pozo/Thiago Nogueira (APSU) def. Andre Rodeia/No player (TTU), by forfeit
Singles
1. Carlos Vicente (TTU) def. Frederic Schlossmann (APSU) 6-3, 6-3
2. Evzen Holis (TTU) def. Oliver Andersson (APSU) 6-1, 6-2
3. Rafael Tosetto (TTU) vs. Anton Damberg (APSU) 6-2, 4-3, unfinished
4. Andre Rodeia (TTU) def. Jacob Lorino (APSU) 6-1, 6-2
5. Jun Sasagawa (TTU) vs. Gabriel Nolasco Pozo (APSU) 6-2, 6-5, unfinished
6. Thiago Nogueira (APSU) def. No player (TTU), by forfeit