Clarksville, TN – Every week, Clarksville Online will be bringing you pets from different rescue organizations that are in need of a good home in Clarksville-Montgomery County and surrounding areas. This week's pets are for the week of November 17th, 2021.
Dogs and cats of all ages, breeds, and sizes are available through area animal rescues and shelters, as well as opportunities to help homeless animals through foster programs, donations, and help with fundraisers and other family-friendly activities.
Contact a rescue near you to learn more.
Montgomery County Animal Care and Control
Tippy is a 2-year-old, female medium size Tan & White Pit Bull Mix. She is up to date on vaccinations. She is looking for her forever home. For more details, MCACC will be glad to answer your questions.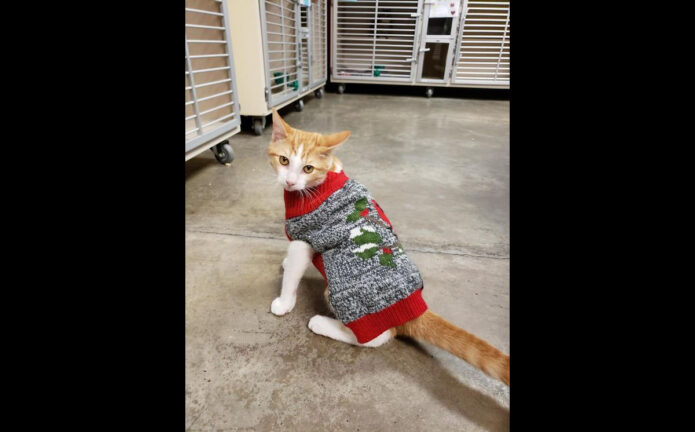 Tang is dressed in his holiday finest and just wants a new family for Christmas. He is a small young male Domestic Shorthair cat. He is up to date on vaccinations and is litter trained.
Find them both at Montgomery County Animal Care and Control, 616 North Spring Street, 931.648.5750, www.facebook.com/MontgomeryCountyAdoptionServices
Cats Are Us
Olive is a female domestic short haired tabby, approximately 4 years old. Olive is spayed, up to date on vaccinations and litter trained. She was fostered but would like a loving home where she is the only cat. She does alright with dogs. She responds to gentle affection and will appreciate stability.
Olive is currently available at PetSmart on weekends from noon to 4:00pm or by appointment through Cats Are Us, 931.503.0053, www.facebook.com/catsareustn
Dover County Humane Society
Floyd is a young male domestic shorthair cat. Charming Floyd needs a home ASAP. He is a super sweet and lovable guy. He is 7 months old, up to date on vaccinations, dewormed, neutered and litter trained. Sweet Floyd was the only kitten in his litter born FIV positive which he inherited from his momma. He is very healthy and can live a long life with FIV. He is so loving with his people and needs to be an indoor companion. He can live with another FIV cat if so desired.
You can find him through the Humane Society of Dover-Stewart County, 931.305.8212, www.petfinder.com/shelters/TN113.html
Stewart County Faithful Friends Animal Rescue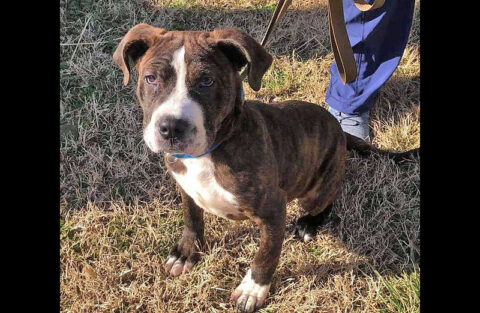 Drako is looking for his forever family! He is a delightful, sweet-natured, loving one-year-old mixed breed pup. He is neutered and up to date on vaccinations. Drako is the perfect gentleman indoors and enjoys being with his people. He does well with dogs but needs to be in a cat-free home. He will make a great jogging and hiking buddy. He loves walks and any outdoor adventures.
Come out and meet Drako! Find him through Stewart County Faithful Friends Animal Rescue, 931.627.1459, www.facebook.com/scffar2010/
Companion Pet Rescue of Middle Tennessee
Copper is an adult male mixed breed. He is a very high-energy boy that thrives on structure. He will require a home where they provide that structure and plenty of various exercise outlets as well.
He is a quick learner, very eager to please his people and loves to have a job or play fetch. He is good with most dogs but with his energy a meet and greet is recommended since not all dogs appreciate his enthusiasm levels! He is also good with cats, ducks and chickens!!
Copper would do best in a very active home and older children are a must due to his energy. Copper would do well with agility, flyball and long walks and hikes to help channel his enthusiasm and energy. Come on out for a meet and greet with Copper! He is waiting for you!
This handsome guy can be found through Companion Pet Rescue of Middle Tennessee, 615.260.8473, www.facebook.com/companionpetrescueofmiddletennessee/
Two Ladies Caring Dog Rescue
Pete is a 4 year old CKC American Bulldog. Pete is a big boy, weighing in at about 100 pounds. He is neutered, current on vaccinations and house trained. An adopter with large breed or Bulldog experience would be ideal. He's a big boy with a big heart.
He loves nothing more than to cuddle on the couch with his family. He grew up around a number of kids ranging from newborn to 10 years old and has been great with them. He is working hard with his foster mom with refresher classes on basic obedience skills so he can be his best self with his new family!.
You can find Pete through Two Ladies Caring Dog Rescue, 931.217.1587, www.petfinder.com/shelters/TN505.html
Sagley's Biker Bully Farm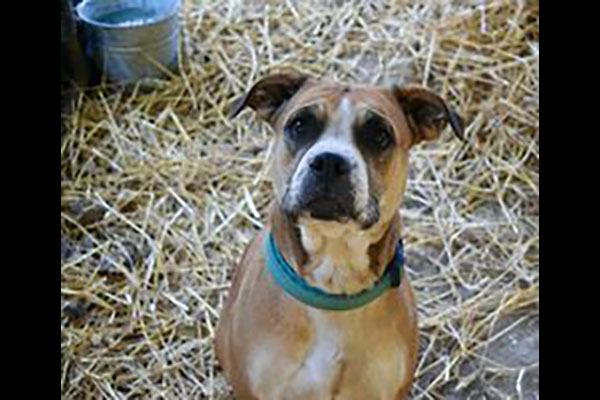 Let's meet Sophia Grace!! She is a wonderful 6 year old Boxer mix looking for her forever home! She is up to date on all vaccinations and house trained. Sweet Sophia Grace was a Veteran's loving, loyal service dog and when he passed, she ended up at the Farm with Lisa and all the other pups. She knows all her commands, loves kids and does well with other dogs but prefers to be the only dog in the home. She just wants a family that will welcome her and give her all the love and attention she so deserves.
If you are interested in this sweet, loving girl and want more information on Sophia Grace or any of the other pups looking for their new families, please reach out to Lisa or Viktoria at Sagley's Biker Bully Farm, 408.355.5493, www.facebook.com/Sagleys-Biker-Bully-Farm-0/13131668363592