Cookeville, TN – The Austin Peay State University (APSU) women's basketball team had a look to tie the game from three-point range at the end of regulation, but Yamia Johnson's shot drew iron and the Governors fell to Tennessee Tech, 59-56, In Ohio Valley Conference action, Thursday, at the Hooper Eblen Center.
After trading baskets on the first four possessions to open the contest, Austin Peay (13-6, 6-3 OVC) fell behind Tennessee Tech (12-7, 7-2 OVC) when Anna Jones hit back-to-back three-pointers to take a 10-6 lead with 5:07 left to play in the opening quarter. With 2:22 left in the first period, a Kasey Kidwell three-pointer brought the Govs back within two points, 13-11, and then after a pair of Golden Eagles free throws and a pair of D'Shara Booker layups the game was tied, 15-15, with 40 seconds left in the period.

With the clock winding down on the first quarter, Johnson attacked the rim and was able to draw a foul with 0.2 seconds remaining. Johnson then proceeded to knock down both free throws and Austin Peay led, 17-15, at the end of the first period.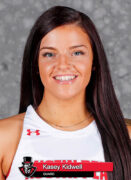 On the first possession of the second quarter, Austin Peay State University pushed its advantage to four points, 19-15, on a Booker turnaround jumper just 26 seconds into the frame. A low-scoring, back-and-forth second quarter saw the Governors leading 25-24 with 2:11 left before halftime. After a 2:06 scoreless drought for both teams, Johnson connected from three-point range with five seconds left on the clock to give the APSU Govs a 28-24 lead at the break.
Austin Peay State University opened the second half on a 4-0 run, with a Pace jumper and Cole layup giving the Govs their biggest lead of the contest, 32-24, with 8:23 left in the third period. However, a quick 5-0 Tennessee Tech run to cut the lead to just three points and sparked a longer 13-4 run that lasted 4:15 and gave the Golden Eagles a one-point, 37-36 lead at the 4:08 mark in the quarter.
Tennessee Tech was able to push its lead to four points with 1:17 left in the period, but once again, the Governors got the final points of the quarter and trailed, 42-40, after 30 minutes of basketball.
A Booker free throw and a Kidwell fast-break layup put the Governors back in front, 43-42, just 1:15 seconds into the final period. But the Golden Eagles quickly retook the lead, with Mackenzie Coleman scoring three-straight points to go ahead, 45-43, with 7:49 to play.
But Ella Sawyer had an answer to Coleman's three-straight points and scored four-straight points by herself, hitting back-to-back shots to give Austin Peay State University a 47-45 lead with 6:33 left in the contest. The two sides traded baskets for the next two minutes of the contest and the Governors led, 50-49, with 4:17 left to play before Tennessee Tech went on a 6-1 run to take a four-point lead with 2:34 left on the clock.
With 14 seconds left in the contest, Austin Peay State University was able to cut the deficit to just a single point, 57-56 when Johnson converted the old-fashioned three-point play. The Golden Eagles pushed the lead back to three after knocking down a pair of free throws, setting up the Johnson shot at the end of the regulation that just missed.
The Difference
Free throws. Tennessee Tech made 19 free throws on 35 attempts. Austin Peay State University shot just 14 free throws and converted just eight times at the charity stripe.
Notably APSU
Austin Peay State University's four-game winning streak came to an end and Tennessee Tech pushed its winning streak to an OVC-best five games.
Austin Peay State University falls to 21-66 all-time against Tennessee Tech and 7-34 all-time against the Golden Eagles in Cookeville.
The Governors outscored Tennessee Tech, 38-18, in the paint and fell for the first time this season when scoring more points in the paint.
Lyric Cole and Yamia Johnson each scored a team-high 13 points.
Cole scored in double-figures for the sixth time this season and the first time since scoring 12 points against Southeast Missouri, January 1st.
Johnson scored in double-figures for the 18th time this season and led the Governors in scoring for the team-best 11th time this season.
Cole grabbed a team-high nine rebounds and missed her third-career double-double but just a single board.
D'Shara Booker scored nine points and grabbed eight rebounds, her best performance on the glass since grabbing eight rebounds against SIU Edwardsville, January 17th.
Ella Sawyer dished out a team-high four assists, she has led the APSU Govs in helpers eight times this season.
Sawyer also grabbed five rebounds; she has grabbed at least five boards in nine of Austin Peay State University's last 12 games.
Next Up For APSU Women's Basketball

The Austin Peay State University women's basketball team returns home to host a Thursday contest against rival Murray State in the Winfield Dunn Center that begins at 5:30pm. The Govs then head back on the road for a February 5th 1:00pm game against Morehead State at Johnson Arena in Morehead, Kentucky,
For news and updates on everything Governors women's basketball, follow along on Twitter and Instagram (@GovsWBB) or check back at LetsGoPeay.com.
Box Score
Austin Peay 56, Tennessee Tech 59
| | | | | | |
| --- | --- | --- | --- | --- | --- |
| | 1 | 2 | 3 | 4 | Total |
| Austin Peay | 17 | 11 | 12 | 16 | 56 |
| Tennessee Tech | 15 | 9 | 18 | 17 | 59 |
Austin Peay Stats
#

Player

PTS

FG

3FG

FT

REB

A

PF

TO

MIN

1*

PACE

8
4-13
0-3
0-0
4
2
3
2
25
3*

DE LEON NEGRON

0
0-2
0-0
0-0
3
3
1
3
24
4*

SAWYER

8
4-7
0-0
0-0
5
4
3
4
36
14*

COLE

13
6-8
0-0
1-5
9
1
3
1
25
22*

KIRBY

0
0-2
0-1
0-0
1
1
4
0
29
5

KIDWELL

5
2-4
1-2
0-0
4
0
4
0
20
11

BOOKER

9
4-4
0-0
1-2
8
1
5T
3
14
24

JOHNSON

13
3-11
1-2
6-7
4
1
3
4
25
TM

TEAM

–
–
–
1
0
0
TOTALS
56
23-51
2-8
8-14
39
13
26
17
GAME PCT
45.1
25.0
57.1
Tennessee Tech Stats
#

Player

PTS

FG

3FG

FT

REB

A

PF

TO

MIN

5*

JONES

16
5-15
2-4
4-9
9
4
2
7
36
20*

BRADY

4
1-3
0-1
2-2
1
1
2
0
24
22*

CARTER

0
0-0
0-0
0-0
3
1
0
0
10
24*

GUINN

8
2-4
0-0
4-9
3
4
4
1
34
33*

COLEMAN

10
4-9
1-4
1-2
6
2
2
1
25
3

CLARK

0
0-3
0-3
0-0
2
1
1
0
26
4

WALKER

7
2-6
1-3
2-4
2
0
2
1
19
11

OWENS

13
3-7
2-5
5-7
2
1
2
0
21
13

HALL

1
0-0
0-0
1-2
0
0
0
0
5
TM

TEAM

–
–
–
3
0
1
TOTALS
59
17-47
6-20
19-35
31
14
15
11
GAME PCT
36.2
30.0
54.3
Team Comparison
| Statistic | Austin Peay | Tennessee Tech |
| --- | --- | --- |
| FG% | 45% | 36% |
| FGs | 23-51 | 17-47 |
| 3FG% | 25% | 30% |
| 3FGs | 2-8 | 6-20 |
| FT% | 57% | 54% |
| FTs | 8-14 | 19-35 |
| TOs | 17 | 11 |
| PtsOffTO | 12 | 24 |
| TotReb | 39 | 31 |
| DefReb | 26 | 18 |
| Off Reb | 13 | 13 |
| 2ndChPts | 12 | 11 |
| BenchPts | 27 | 21 |
| PtsPaint | 36 | 18 |
| FstBkPt | 4 | 5 |
| Blocks | 0 | 4 |
| Steals | 5 | 9 |
| Assts | 13 | 14 |
| Times Tied: | | 7 |
| Time Tied: | | 5:27 |
| Lead Chg: | | 10 |
| LeadTime | 19:37 | 14:47 |