Cookeville, TN – The Austin Peay State University (APSU) men's basketball team earned its second straight Ohio Valley Conference road victory on Saturday night, defeating Tennessee Tech in a defensive battle 58-55 inside the Eblen Center.
Offensively the APSU Govs were paced by freshman Elijah Hutchins-Everett with 18 points on 7-of-10 shooting from the field. Hutchins-Everett was two rebounds shy of his second straight double-double with a team-high eight rebounds. The Orange, NJ, native was 4-of-5 from the free-throw line against the Golden Eagles to go along with one assist and one block.
Off the bench, junior Cameron Copeland had 16 points on 6-of-8 shooting from the field with five rebounds, one assist, and one steal. Copeland was 3-of-5 from long distance and shot 50 percent from the charity stripe. It was Copeland's first double-digit performance since Jan. 1 against Southeast Missouri State.

Senior Elton Walker registered eight points on 4-of-5 shooting from the field followed by redshirt senior Tariq Silver off the bench with five points, four rebounds, and three assists. Junior Alec Woodard continued his stellar play with three points along with six rebounds and a career-high six assists. The quartet of Carlos Paez, Drew Calderon, Jalen Ware, and DJ Peavy rounded out the scoring with two points each.

As a team, the Govs shot 45.3 percent from the field and was 5-of-19 from behind the three-point line. Austin Peay registered 19 assists on 24 made field goals while outrebounding Tennessee Tech, 37-19. APSU played 40 minutes of stifling defense against TTU, forcing 13 turnovers, scoring 18 points off of TTU mistakes.
How It Happened
First Half
The Govs start off the game in style with an alley-oop dunk to senior Elton Walker.
Both teams go a combined 1-of-9 from the field over a three-minute stretch as the game is tied at two with 16:30 remaining.
APSU scores four straight points on a dunk by Walker, followed by a fast-break lay-up from junior Carlos Paez to earn a 6-2 lead.
APSU and Tennessee Tech traded baskets at the 14-minute mark as the Govs held on a 13-10 lead.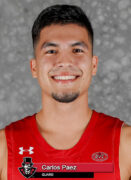 The Govs made seven of their next eight field goals to earn a 17-13 advantage with 9:26 remaining.
Tennessee Tech went scoreless from the field for over four minutes as APSU extended its lead to 19-13.
During the Tennessee Tech scoreless streak, the Govs shot just 1-of-7 from the field.
Govs out of media timeout, go on a 6-0 run in 42 seconds to take a double-digit lead at 25-15 at the 4:48 mark.
Cameron Copeland with four of the six points during the Govs run.
Ultimately Austin Peay State University embarked on a 13-2 run over seven minutes to widened its lead to 28-15 with 3:57 remaining.
During the run, the Govs forced Tennessee Tech to commit four turnovers and go 1-of-8 from the field.
Down the stretch, Austin Peay State University held Tennessee Tech scoreless the final 3:33 of regulation
The Govs missed their final five field goals and were held scoreless the final 3:12
Halftime: Austin Peay 30, Tennessee Tech 19
Govs force 11 turnovers in the first half, scoring 13 points off of Golden Eagle mistakes.
Junior Cameron Copeland off the bench led the Govs at the half with nine points.
Six of the nine Govs that saw the court scored in the first half.
Second Half
Austin Peay begins the second half on a 5-0 run to take a 35-19 lead at the 18-minute mark.
Elijah Hutchins-Everett with four of the first nine points as the Govs lead 39-23 with 14:44 remaining.
Hutchins-Everett converts with a baby hook for his 15th point of the night to give Austin Peay a 20-point.

The Govs extended their lead to 49-29 with 11:22 remaining after making four straight field goals.

Tennessee Tech trims the Govs lead down to 49-34 with 9:47 left after back-to-back wide-open lay-ups.

APSU goes scoreless from the field for nearly four minutes, committing four turnovers during that time.

Tennessee Tech rallies with an 8-0 run during the Govs scoreless stretch to trim the APSU lead down to 49-37 with 8:10 to go.
The Golden Eagles embark on a two-minute scoring drought as APSU extends lead to 55-41 at the 4:56 mark.
Tennessee Tech held scoreless from the field for over four minutes with the Govs earning a 57-43 lead with three minutes left.
After a turnover, TTU knocks down a three in transition with 2:23 on the clock and the Govs lead is single digits at 57-48.
Tennessee Tech makes three of its next four field goals to cut the APSU lead down to 58-53 with 1:01 remaining.
The Golden Eagles ended the game on a 12-1 run and had two shots from long distance to tie the game but missed both.
Final Score: Austin Peay 58, Tennessee Tech 55
APSU Notables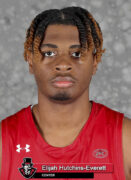 Elijah Hutchins-Everett led the APSU Govs with 18 points
It's the second straight and 12th game this season Hutchins-Everett has scored in double figures
Cameron Copeland scored 16 points, marking the first double-digit performance for Copeland since January 1st at Southeast Missouri
The APSU Govs registered 19 assists on 24 made field goals
It's the most assists in a single-game since having 20 back on December 11th at North Florida
Austin Peay State University held Tennessee Tech to its second-lowest point total of the season
The Govs are 5-2 this season when leading at the half.
Austin Peay State University has won four of the past five meetings against Tennessee Tech.
The Govs have now won three of the last four contests in Cookeville.
APSU earned its first Saturday win since Nov. 20 at Dayton
The Govs are 310-291 all-time against NCAA Division I opponents from the state of Tennessee
Tickets
Purchase single-game tickets or the all-new Family Four Pack presented by The City Forum. Receive four tickets to both a men's and women's basketball game along with four attraction passes at The City Forum. Packages start at just $22.00 and can be purchased by visiting letsgopeay.com/buytickets using the Promo Code: FAM4 or contacting the Govs Ticket Office at 931,221,PEAY (7329).
Next Up For APSU Men's Basketball
Austin Peay State University men's basketball will play the first of back-to-back home games beginning on Monday, January 31st against SIU Edwardsville. Following Monday's contest, the APSU Govs shift gears towards their rivalry match-up with Murray State, Thursday, February 3rd.
Follow The APSU Govs
For all the latest information on Austin Peay State University Athletics, please visit letsgopeay.com. For up-to-the-minute updates, follow the APSU Govs on Twitter, Instagram, and Facebook.
Box Score
Austin Peay 58, Tennessee Tech 55
| | | | |
| --- | --- | --- | --- |
| | 1 | 2 | Total |
| Austin Peay | 30 | 28 | 58 |
| Tennessee Tech | 19 | 36 | 55 |
Austin Peay Stats
#

Player

PTS

FG

3FG

FT

REB

A

PF

TO

MIN

0*

WALKER

8
4-5
0-0
0-0
3
2
1
2
19
1*

PAEZ

2
1-6
0-1
0-0
2
3
2
1
34
4*

HUTCHINS-EVERET

18
7-10
0-0
4-5
8
1
3
1
33
5*

CALDERON

2
1-7
0-5
0-0
3
2
3
2
19
55

SILVER

5
2-8
1-4
0-0
4
3
0
2
26
10

WARE

2
1-1
0-0
0-0
2
0
1
0
6
14

PEAVY

2
1-1
0-0
0-0
0
1
0
0
5
22*

WOODARD

3
1-7
1-4
0-1
6
6
4
3
33
24

COPELAND

16
6-8
3-5
1-2
5
1
2
5
24
TM

TEAM

–
–
–
4
0
2
TOTALS
58
24-53
5-19
5-8
37
19
16
18
GAME PCT
45.3
26.3
62.5
Tennessee Tech
#

Player

PTS

FG

3FG

FT

REB

A

PF

TO

MIN

3*

DAVIDSON

12
4-11
2-6
2-3
2
4
1
0
34
4

CLAY

18
4-8
3-6
7-8
4
3
1
3
28
13*

WHITE JR.

2
1-7
0-3
0-2
2
1
1
2
24
14*

DIARRA

11
4-6
1-3
2-3
3
1
0
3
29
50*

PETTWAY

4
2-6
0-0
0-2
5
3
1
3
28
1

WOOD

2
1-3
0-0
0-2
4
0
5
1
14
2*

RAMSEY

2
1-2
0-0
0-0
4
0
0
1
16
12

SYLLA

4
2-3
0-0
0-2
4
0
2
0
21
33

GOLDMAN

0
0-1
0-1
0-0
1
0
0
0
7
TM

TEAM

–
–
–
0
0
0
TOTALS
55
19-47
6-19
11-22
29
12
11
13
GAME PCT
40.4
31.6
50.0
Team Comparison
| Statistic | Austin Peay | Tennessee Tech |
| --- | --- | --- |
| FG% | 45% | 40% |
| FGs | 24-53 | 19-47 |
| 3FG% | 26% | 32% |
| 3FGs | 5-19 | 6-19 |
| FT% | 63% | 50% |
| FTs | 5-8 | 11-22 |
| TOs | 18 | 13 |
| PtsOffTO | 18 | 23 |
| TotReb | 37 | 29 |
| DefReb | 25 | 19 |
| Off Reb | 12 | 10 |
| 2ndChPts | 11 | 5 |
| BenchPts | 25 | 24 |
| PtsPaint | 22 | 22 |
| FstBkPt | 3 | 6 |
| Blocks | 2 | 7 |
| Steals | 6 | 7 |
| Assts | 19 | 12 |
| Times Tied: | | 1 |
| Time Tied: | | 3:32 |
| Lead Chg: | | 0 |
| LeadTime | 36:28 | 0:00 |