Clarksville, TN – Every week, Clarksville Online will be bringing you pets from different rescue organizations that are in need of a good home in Clarksville-Montgomery County and surrounding areas. This week's pets are for the week of January 9th, 2022.
Dogs and cats of all ages, breeds, and sizes are available through area animal rescues and shelters, as well as opportunities to help homeless animals through foster programs, donations, and help with fundraisers and other family-friendly activities.
Contact a rescue near you to learn more.
Montgomery County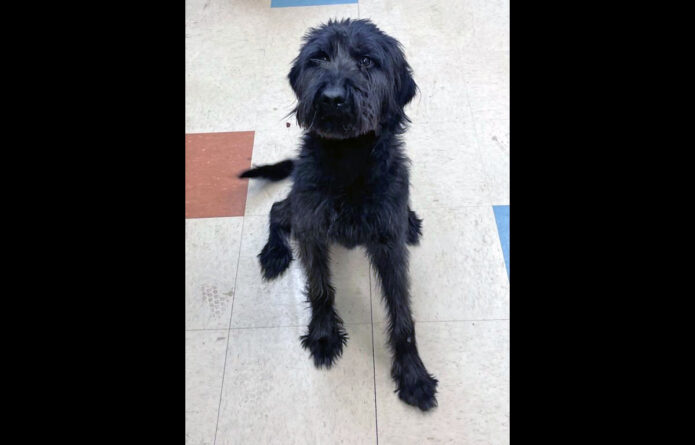 Ezabella is an adult female Poodle/Labrador Retriever. She is fully vetted and spayed so she can go home the same day! How can you resist this face, all she wants is her own family who will shower her with love and attention! For more extensive details MCACC will be glad to answer your questions.
Scratchy is a sweet female adult domestic longhair cat. Fully vetted, litter trained and will be spayed before going home.
Find them both at Montgomery County Animal Care and Control, 616 North Spring Street, 931.648.5750, www.facebook.com/MontgomeryCountyAdoptionServices
Finders Keepers Cat Rescue
Pawdry Hepburn is a lovely female domestic shorthair with beautiful eyes. She is vetted, vaccinations updated, spayed, and litter trained. She will make someone an excellent companion.
She can be found through the Finders Keepers Cat Rescue, message them on FB or www.petfinder.com/member/us/tn/clarksville/finders-keepers-cat-rescue-tn984/ or email finderskeeperscatrescue@gmail.com
Cat Adoption Team of Stewart County (CATS)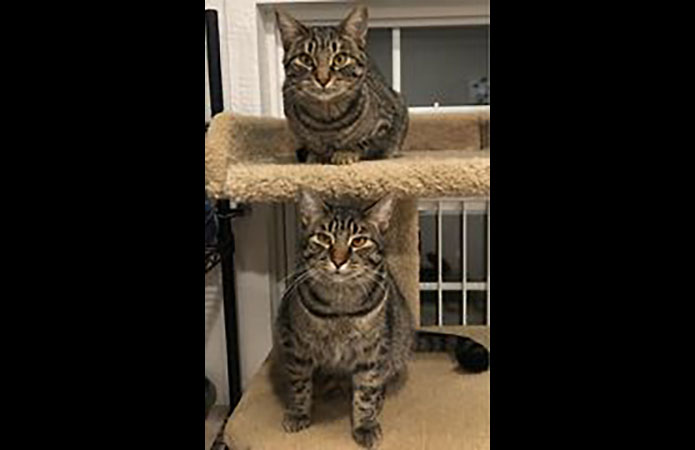 Carter & Cooper are a pair of one-year-old bonded brothers. They have been thoroughly vetted, vaccinations, litter trained, dewormed, FeLV/FIV tested, and neutered. They were very shy initially as babies coming into rescue but over time they have blossomed into loving, playful and inquisitive guys! They entertain each other and will make great additions to your family!
These great boys can be found through the Cat Adoption Team (CATS). Contact Susan at 931.305.8212 text or leave a message or message through their FaceBook page www.facebook.com/CatAdoptionTeamOfStewartCountyCATS
Stewart County Faithful Friends Animal Rescue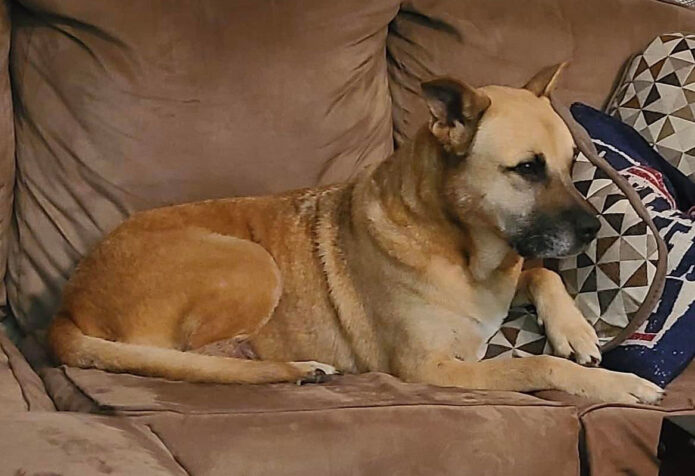 Bruce is such a great-looking, very loving 7-year-old male Lab mix. He is fully vetted, neutered, house-trained, and on Heartworm prevention. Bruce grew up with a male owner until he could no longer care for him due to health reasons so please understand Bruce is very male-oriented, prefers men and will bond very quickly to his person.
He needs to be the ONLY pet in the home and NO children please. He will thrive in a more quiet environment and likes long walks and spending time with his person. He would be perfect for someone retired or who is home often to be able to spend time with Bruce. Look no further for your new best buddy!!!
Come meet him through Stewart County Faithful Friends Animal Rescue, 931.627.1459, www.facebook.com/scffar2010/
Companion Pet Rescue of Middle Tennessee
Ollie is a young, 10-month-old male mixed breed weighing in at roughly 80 pounds! This guy is a BIG lovebug! He is fully vetted, neutered, gets along great with other dogs, cats and children. He might do better with older children just due to his energy and not realizing how big he is.
He does great with leash training, rides great in the car and is crate trained but does sleep out of his crate at night. He loves outdoor adventures and will make a wonderful companion!
Ollie can be found through Companion Pet Rescue of Middle Tennessee, 615.260.8473, or www.facebook.com/companionpetrescueofmiddletennessee/
Two Ladies Caring Dog Rescue
Miles is a one-year-old male Blue Heeler/ Cattle Dog mix. He is athletic, playful, and VERY energetic! Fully vaccinated, neutered, house trained, microchipped, and good with other dogs (no cats though) and older children due to his very high, excitable energy.
Miles has 2 requirements: must have an active family who is outdoors a lot, will run him, take him hiking, jogging and on lots of adventures to help channel his exuberance and energy and absolutely must have a high-fenced yard.
Please do research on these breeds if you have never owned one. They are amazing, most loyal family members but they need to be challenged and they need a "job" be it fetching and returning the ball or frisbee. Don't let his requirements put you off, these breeds are absolutely wonderful family members!!!

For more details and information you can find him through Two Ladies Caring Dog Rescue, 931.217.1587, www.petfinder.com/shelters/TN505.html
Sagley's Biker Bully Farm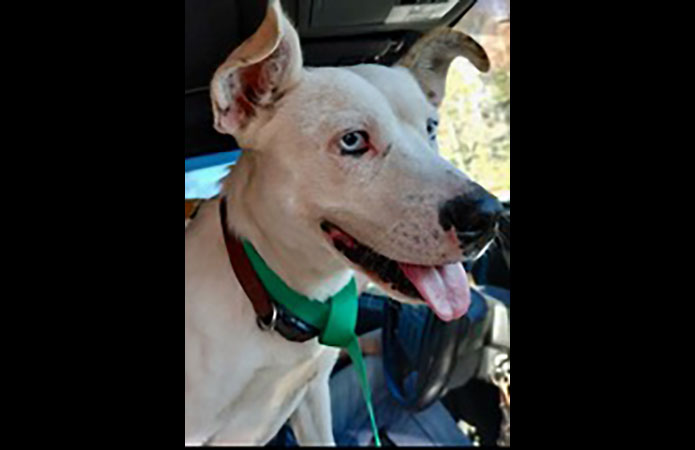 Baby Blue is a 3-year-old female mixed breed with the most amazing blue eyes. She loves people, is good with dogs and kids but hasn't been around cats. Baby Blue is fully vetted and will be checked to see if previously spayed or she will be spayed before going to her new home. She does love a good comfy couch to just curl up and relax in and snuggling with her people.
If you are looking for that special new family member please reach out to Lisa at Sagley's Biker Bully Farm, 785.207.5641 or www.facebook.com/SBBF.Rescue
Puurrrfect Paws Rescue & Cat Cafe
Gizmo is a very sweet male Domestic shorthair approximately 9 years old. He and his 6 siblings were found abandoned in an old RV and quickly taken in by the Rescue and all cleaned up, vetted and ready to move to new families! He is neutered, fully vetted, full vaccinations and litter trained. Gizmo is good with other kitties and loves to be brushed! He will be a wonderful addition to your family. PPR&C also has a wonderful Cat Cafe in town.
To set up a meet and greet and for more information on him and all the cats please go to www.puurrrfectpawsrescue.com or message them through their FB page, Puurrrfect Paws Rescue & Cafe.
Hot Rod's Garage Senior Sanctuary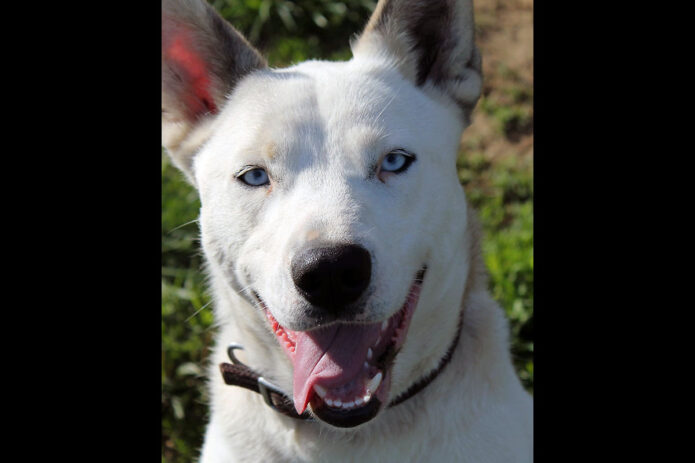 Windy is a very beautiful female white Husky/Shepherd mix with stunning blue eyes! She is fully vetted, spayed and house trained. Windy is great with kids but prefers to be the only pet in the home. Windy is our first pup to go through training with WatchdogK9. When she graduates this month she will be ready to show her new family all she learned! Windy will come with one free lesson for her new family and refresher courses through her lifetime.
If you think she will be a great fit in your life, you can contact the rescue. For more details call 931.801.1907 or email Hrgsrsanc@gmail.com https://docs.google.com/forms/d/1GwXSlg0hKDKniRHmrTkHuRwGG9s-3GQ8Ke1Ftdg-F-Q/edit?usp=sharing
Mikaela's Mutt Motel
Christmas is a 6-week-old female Pit mix. She will be available for adoption on January 21st. She will be fully vetted, age-appropriate vaccinations and a voucher for her spay at 6 months old. She will be about 40 pounds fully grown. She is starting to explore and play. She is a sweet, loving girl looking for her forever family.
To find out more about her you can go to www.mikaelasmuttmotel.org/merry-mutts or message them on Facebook at www.facebook.com/mikaelasmuttmotel
You can also reach them at 931.342.2526 and emailing adopt@mikaelasmuttmotel.org