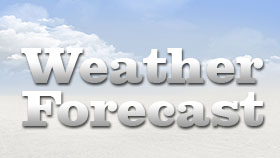 Clarksville, TN – It will be sunny Thursday through Saturday for Clarksville-Montgomery County. The weather changes to a chance of rain for Saturday night and Sunday.
Thursday afternoon, it will be mainly sunny with winds from the west of around 20 mph. Gusts can be as high as 35 mph. The high will be around 64 degrees. It will be mostly cloudy Thursday night with a low near 33 degrees. Winds will be from the west at 10 mph up to 20 mph. Wind gusts of up to 30 mph can be expected at times.
Friday will be mainly sunny with a high of 47 degrees as temperatures drop. There will be a 5 mph to 10 mph breeze from the Northwest. Friday night, the skies will be mostly clear with a slight 5 mph wind and a low of 27 degrees.
There will be sunny skies on Saturday with a high of around 48 degrees. Saturday night, there is a 50 percent chance of rain with a low of 35 degrees.
Sunday, rain continues with a 60 percent chance of precipitation. It will be cloudy with a high of 48 degrees. There is a slight chance of rain Sunday night mainly before midnight with a low of around 35 degrees.
For Monday morning, the high will be about 47 degrees with a slight wind coming from the northwest of around 5 mph to 10 mph. Winds will come from the Southeast in the afternoon.