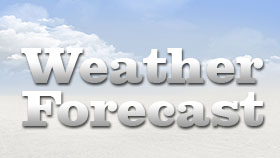 Clarksville, TN – It will be cloudy with a chance of showers this week for Clarksville-Montgomery County. It will be mainly cloudy tonight with a low near 34 degrees.
Come Monday morning, it will continue to be cloudy with a high of 45 degrees. Monday night, it will be partly cloudy with the low dipping down to 28 degrees.
Increasing cloud cover is expected Tuesday with a high reaching 50 degrees. The is a 100% chance of rain Tuesday night with winds between 15 mph to 20 mph from the east-northeast. There can be gusts up to 30 mph. The low will be 37 degrees.
Rain will continue Wednesday with a 60% chance of precipitation. It will be cloudy with winds out of the southwest around 20 mph. Wind gusts can reach 35 mph. The high will be 48 degrees. Wednesday night, rain moves out of the area. It will be cloudy with a low of 32 degrees.
It will be mainly cloudy Thursday with a high of around 40 degrees. The skies remain cloudy Thursday night with the low dropping down to a freezing 26 degrees.