Clarksville, TN – Every week, Clarksville Online will be bringing you pets from different rescue organizations that are in need of a good home in Clarksville-Montgomery County and surrounding areas. This week's pets are for the week of January 30th, 2023.
Dogs and cats of all ages, breeds, and sizes are available through area animal rescues and shelters, as well as opportunities to help homeless animals through foster programs, donations, and help with fundraisers and other family-friendly activities.
Contact a rescue near you to learn more.
Montgomery County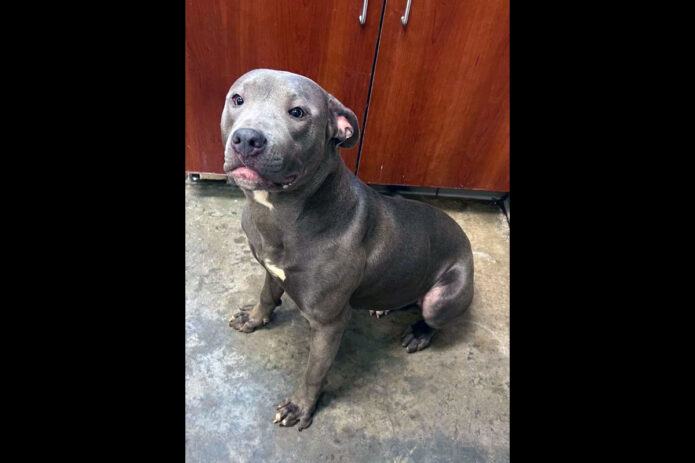 Saff is a young female Pit Bull Terrier. She is fully vetted, is current on vaccinations, and will be spayed before heading to her new family. For more extensive details MCACC will be glad to answer your questions.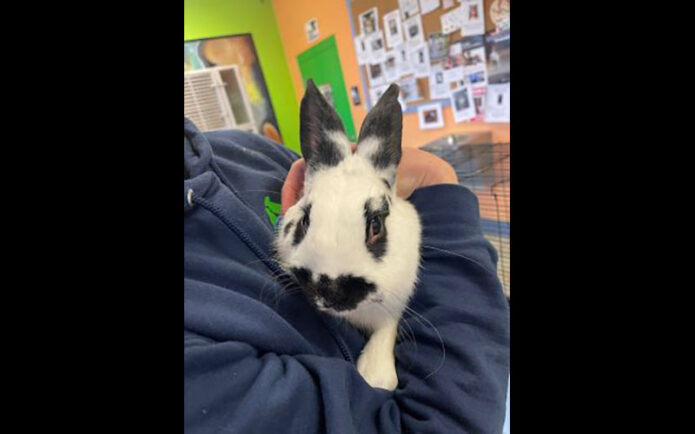 Patches Marie is a small female English Spot rabbit. Rabbits are clean, easy to care for, and would be a great starter pet for a child. Find them both at Montgomery County Animal Care and Control, 616 North Spring Street, 931.648.5750, www.facebook.com/MontgomeryCountyAdoptionServices
Finders Keepers Cat Rescue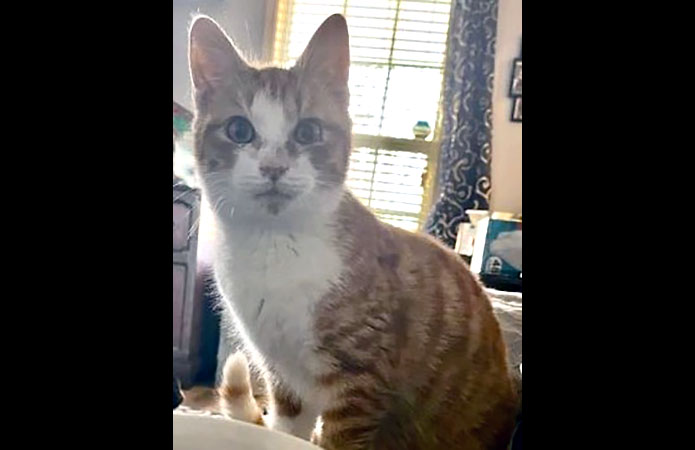 Rosencrantz is a young male domestic shorthair kitten. He is fully vetted, litter trained, and will be neutered before heading to his new family. He loves to play, cuddle and is just overall adorable and quite a character! He's good with kids, dogs and other kitties.
He can be found through the Finders Keepers Cat Rescue, message them on FB or www.petfinder.com/member/us/tn/clarksville/finders-keepers-cat-rescue-tn984/ Or email finderskeeperscatrescue@gmail.com
Cat Adoption Team of Stewart County (CATS)
Piper is a lovely 8-month-old female kitten. She is fully vetted, spayed, dewormed, on flea prevention, Negative on FeLV/FIV testing, and litter trained. Piper is rather quiet and shy and will be a wonderful addition to any family. She can be found through the Cat Adoption Team (CATS).
Contact Susan at 931.305.8212 text or leave a message or message through their FaceBook page www.facebook.com/CatAdoptionTeamOfStewartCountyCATS
Stewart County Faithful Friends Animal Rescue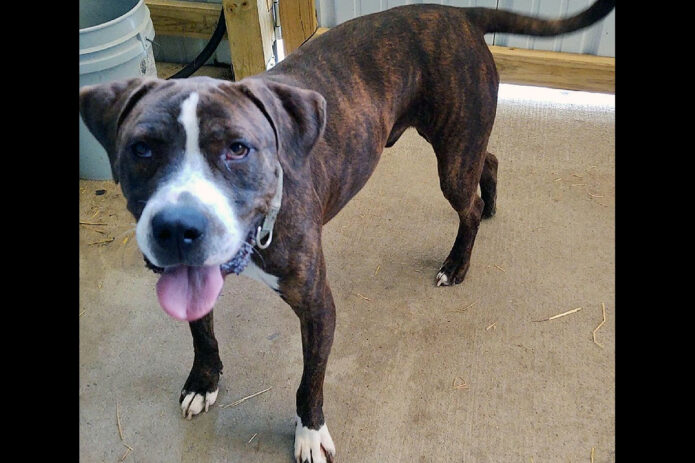 Drako is approximately a year and half old possibly Pit mix. This loveable, silly guy is still looking for his forever home. There is nothing wrong here with him, he is fully vetted, neutered and housetrained.
He is just so full of life and excitement about anything( which is amazing since this sweet boy was dumped at a truck stop when he was 6-7 weeks old) and very happy, especially with his people, (did we say he loves people?) that his energy levels get a bit high. But the great folks at the rescue have been working diligently with him and he has made so much improvement!
Drako prefers to be the only pet in the home so he can be the center of your affection and attention. This wonderful guy just needs a family with a strong alpha leader not afraid to set boundaries and give Drako all the tools to help him become his best self!

He will be an outstanding hiking and jogging buddy too! Drako just wants the chance to be loved! Look no further for your new best friend!!!

Come meet him through Stewart County Faithful Friends Animal Rescue, 931.627.1459, www.facebook.com/scffar2010/
Companion Pet Rescue of Middle Tennessee
Ember is a sweet, young, female Pit Bull Terrier mix. She is fully vetted, microchipped, spayed and house-trained! She is good with kids, dogs and cats! She is very energetic and playful too and loves to cuddle with her people! Fun times with her hiking, jogging and all kinds of adventures.
Ember can be found through Companion Pet Rescue of Middle Tennessee, 615.260.8473, or www.facebook.com/companionpetrescueofmiddletennessee/
Two Ladies Caring Dog Rescue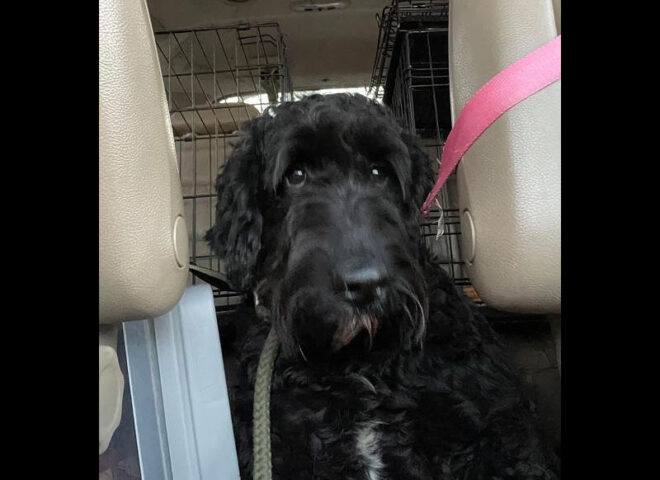 Liberty is an adult female Labradoodle. She is friendly, playful, smart and funny! She is house and crate-trained, fully vetted, spayed, microchipped and Heartworm negative. Liberty does well with children and other dogs but she is a bit skittish at first but once she warms up she is just the sweetest girl! She will need a loving home that will continue showing her the world is not such a scary place and help build her comfort levels. She will be a wonderful, loving addition to your family!
For more details and information you can find her through Two Ladies Caring Dog Rescue, 931.217.1587, www.petfinder.com/shelters/TN505.html
Sagley's Biker Bully Farm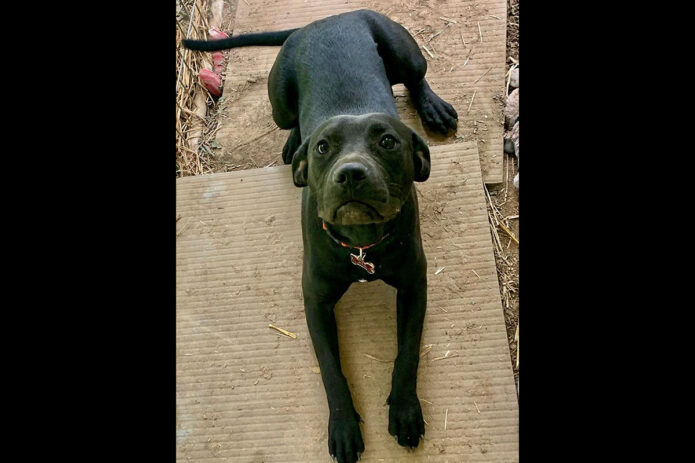 Jill is an approximately one-year-old female Pit mix. She loves people, is good with dogs, very playful and loves kids but is still a bit of a jumper so probably best with older children just due to her size and excitability! Jill is fully vetted and spayed. She is also crate trained. She would love a big yard and lots of walks and adventures! She is a very sweet girl looking for her forever family. She will be so happy with an active home!
If you are looking for that special new family member please reach out to Lisa at Sagley's Biker Bully Farm, 785.207.5641 or www.facebook.com/SBBF.Rescue
Puurrrfect Paws Rescue & Cat Cafe
Batman is a 7 year old male cat looking for his forever home. He is neutered, fully vetted, shots updated and litter trained. Sweet Batman needs to be in a home with maybe a docile female but absolutely no dogs whatsoever!! No young children either at this time please.
He prefers a quiet environment, is down for scratches and belly rubs once he gains trust with his people and is comfortable. Batman is a door-dasher and must be watched at all times with doors opening and closing.
He will immediately take an unsanctioned field trip as he does enjoy being outdoors. He would do well with a harness so he can be outside and go for walks. PPR&C also has a wonderful Cat Cafe in town.

To set up a meet and greet and for more information on all the cats please go to www.puurrrfectpawsrescue.com or message them through their FB page, Puurrrfect Paws Rescue & Cafe.
Hot Rod's Garage Senior Sanctuary
Windy is a lovely white Shepherd/Husky mix. She is a young girl, fully vetted, spayed and house trained! She is fine with children but prefers a home without other dogs and especially cats!! Wendy is very energetic and would love a very active family who will take her on adventures, hiking, running, swimming and long walks.
She is currently in training learning new commands and overall to help channel her energy and she is doing exceptionally well. If you think she will be a great fit in your life and you can be that special friend, please contact the rescue.
For more details call 931.801.1907 or email Hrgsrsanc@gmail.com https://docs.google.com/forms/d/1GwXSlg0hKDKniRHmrTkHuRwGG9s-3GQ8Ke1Ftdg-F-Q/edit?usp=sharing
Mikaela's Mutt Motel
Snoopy is a very sweet 8-week-old male Pit mix. He is very playful, affectionate, smart, funny, and loves to give kisses! He is working on potty training and has had age-appropriate vaccinations, dewormed, microchipped, and will be neutered through the rescue when old enough.
He is good with dogs, cats, and children. There is also a free training evaluation from Legend Acres and 50% off 2 months of service from ParaPooper Scoopers if you reside in their service area.
To find out more about him you can go to www.mikaelasmuttmotel.org/snoopy or message them on Facebook at facebook.com/mikaelasmuttmotel. You can also reach them at 931.342.2526 and emailing adopt@mikaelasmuttmotel.org