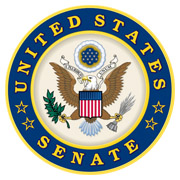 Washington, D.C. – U.S. Senators Marsha Blackburn (R-Tenn.) and Mike Lee (R-Utah), along with 22 of their Senate colleagues, sent a letter to President Joe Biden expressing opposition to a debt-ceiling hike without real structural spending reform that reduces deficit spending.
The signatories expressed their intention to abide by the policy of the Senate Republican conference, which states that "any increase in the debt ceiling must be accompanied by cuts in federal spending of an equal or greater amount as the debt ceiling increase, or meaningful structural reform in spending, such as the Prevent Government Shutdown Act or the Full Faith and Credit Act."
As of November 2022, Tennessee families were paying approximately $629.00 more each month due to inflation caused by the Joe Biden administration's federal spending.
[470center[
The letter reads in part, "Americans are keenly aware that their government is not only failing to work for them – but actively working against them. We do not intend to vote for a debt-ceiling increase without structural reforms to address current and future fiscal realities and manage out-of-control government policies."
Blackburn and Lee were joined by Senators Tommy Tuberville (R-Ala.), J.D. Vance (R-Ohio), Eric Schmitt (R-Mo.), Ron Johnson (R-Wis.), Mike Braun (R-Ind.), Ted Budd (R-N.C.), Kevin Cramer (R-N.D.), Ted Cruz (R-Texas), Cynthia Lummis (R-Wyo.), Rick Scott (R-Fla.), Rand Paul (R-Ky.), Markwayne Mullin (R-Okla.), Mike Crapo (R-Idaho), Roger Marshall (R-Kan.), Joni Ernst (R-Iowa), James Risch (R-Idaho), John Barrasso (R-Wyo.), James Lankford (R-Okla.), Deb Fischer (R-Neb.), Pete Ricketts (R-Neb.), Katie Britt (R-Ala.), and Tim Scott (R-S.C.).
Click here for full text of the letter.
Background
Senator Blackburn is a co-sponsor of the Full Faith and Credit Act, which would ensure the federal government prioritizes funding for our military, veterans and seniors should the Biden administration refuse to exercise its existing authority to prioritize these expenses and prevent default.