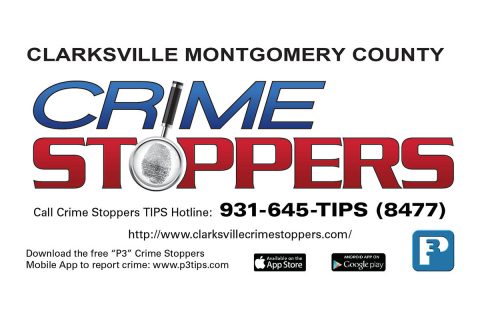 Clarksville, TN – Clarksville-Montgomery County Crime Stoppers recently held its 2023 Blue Jean Ball, a fundraiser that allows the organization to pay for anonymous tips that lead to arrests and convictions in Clarksville Police Department (CPD) and Montgomery County Sheriff's Office (MCSO) cases, including cold cases.
More than 250 were in attendance at the Wilma Rudolph Event Center to enjoy dinner, live music, and dancing, and also a live auction.
Crime Stoppers is a community program that has been around since the 1980s. It facilitates a confidential gathering of information, from members of the community, pertaining to criminal activity. The program was created to enable the public to participate without fear of reprisal, and to make it easier for witnesses to volunteer information, anonymously.
"Crime Stoppers works directly with local law enforcement, Crime Stoppers Chairwoman Amber Key said. "We receive tips from the public, and pass that information on to our partners at CPD, or the Montgomery County Sheriff's Office."
The annual Blue Jean Ball was first held in 2016. The fundraising goal for this year's event was $30,000
"All the money we raise here tonight will be used to pay for tips," Key said. "We pay up to $1,000 for information on felonies and up to $5,000 for information on cold cases. People can register their tips with us by calling our phone line, logging on to our website www.clarksvillecrimestoppers.com, or by accessing our app. Since the program began, we've received more than 8,000 tips."
The event officially kicked off with an invocation, delivered by Montgomery County Mayor Wes Golden. Chairwoman Key and Councilwoman Deanna McLaughlin spent about 15 minutes at the podium, presenting awards and recognizing individuals for their contributions to Crime Stoppers, financial and otherwise.
Clarksville Police Department Chief of Police David Crockarell then took the podium to talk about local law enforcement, his department's commitment to solving every crime, and his appreciation for Crime Stoppers and the assistance they provide.
"As we have recently once again been reminded of the impact of bad cops on a community," Chief Crockarell began, "let me tell you, nobody hates a bad cop, more than a good cop. And we are proud to have hundreds of good men and women serving our community."
Chief Crockarell praised CPD's homicide unit, crime scene team, and all who come together in an effort to close every case.
"To the families that are here tonight, I want to talk to you about our annual commitment and re-commitment to solving every unsolved crime. We spend about $200,000 a year on new ways of testing evidence."
"We could spend a million dollars on technology, but sometimes all it takes is a phone call from people who know what took place during these incidents. Until then, we will use every piece of evidence, every piece of technology, and the minds of these amazing young detectives. I don't know how they do what they do, but they do it well."
Photo Gallery