Atlanta, GA – Shamarre Hale, Mariah Adams, and Anala Nelson of the Austin Peay State University (APSU) women's basketball team earned ASUN Conference postseason recognition, the league announced Friday.
Hale was named Second Team All-Conference and the Unanimous ASUN Sixth Player of the Year, while Adams earned Third Team All-Conference and Nelson received ASUN All-Freshman Team honors.
It is just the fifth time in program history – and the first since 2003 – that a trio of Governors received postseason honors. Hale and Adams are just the fourth duo in the last 20 years to be named to all-conference teams.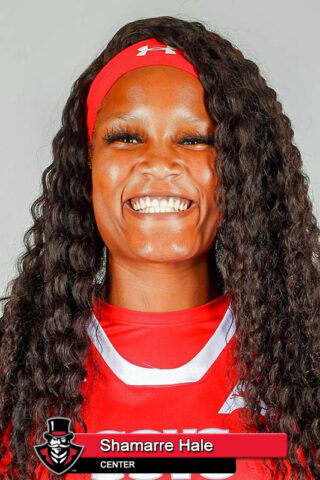 Hale is the first player in program history to earn Sixth Player of the Year honors and is the 20th second-team all-conference selection.
A Chicago native, Hale led the APSU Govs with 11.8 points and 6.7 rebounds per game and four double-doubles. Her 68.9 field-goal percentage also leads the team and is on pace to break the program record set last season by APSU alumna, D'Shara Booker. The two-time ASUN Newcomer of the Week finished the regular season with 21 straight games of recording at least a 50.0 field-goal percentage and made at least two-thirds of her attempts in seven of her last 10 games.
Hale's 68.9 field-goal percentage was third in the ASUN, while her 71.3 field-goal percentage in conference play was tied for the best mark in the league.
The former Wright State transfer ranked in the top 10 in the ASUN during conference play in defensive rebounds (97, fourth), total rebounds (129, sixth), and rebounds per game (7.6, seventh). She also finished fourth in with 49 free throws, eight of which came on and-one opportunities.
Hale scored in double-figures 15 times during the regular season, including 12 times in ASUN action. The 6-1 center scored a career-high 22 points at North Alabama, January 21st, and grabbed a career-high 13 rebounds the following week in a Jan. 28 win against Queens.
Hale's ASUN Sixth Player of the Year award comes as no surprise, as the unanimous selection led all student-athletes eligible for the award in points per game, rebounds per game, offensive rebounds per game (1.8), defensive rebounds per game (4.8), and field-goal percentage.
Adams controlled the point for Austin Peay State University throughout the regular season and was one of eight ASUN Conference athletes to surpass 100 assists. Her 115 assists are the 16th-most in a single season in program history.
The Little Rock, Arkansas native led the APSU Govs in assists 22 times across her 25 appearances this season and led the team – finishing 10th in the ASUN – with 44 steals.
Despite playing in just 15 ASUN games, Adams finished fourth in conference play with 81 assists and sixth in steals with 31. Her 4.6 assists per game were fourth in the ASUN and 50th in Division I.
Adams recorded at least five assists in 13 games while tallying a season-high eight dimes in wins against Kennesaw State and Queens.
In addition to her role facilitating the APSU Govs' offense, Adams also proved to be an efficient shooter, finishing seventh in free-throw percentage at 81.6 and 21st with a 45.6 field-goal percentage.
The all-conference honors are the first for both Hale and Adams in their respective careers.
It is the second-straight year that Austin Peay State University has had a pair of Govs earn all-conference recognition after APSU alumnae Yamia Johnson and Karle Pace received First Team All-Ohio Valley Conference honors last season.
They also are the second pair to receive all-conference honors since Ashley Herrin (First Team All-OVC) and Nicole Jamen (Second Team) in 2010.
After averaging 5.4 points, 2.2 rebounds, and 2.0 assists per game, Nelson is the first Governor since Kara Bergeron and Ashley Haynes in 2003 to be named to the all-freshman team.
Nelson was the only Gov to start all 27 games this season and tallied five double-digit scoring performances in ASUN play.
The Columbia, South Carolina native recorded a career-high 15 points and six rebounds in the Govs' 76-71 win at Lipscomb on February 23rd, earning ASUN Freshman of the Week honors on February 27th.
Nelson was 19th in conference play with 37 assists and eighth in steals with 27.
Austin Peay State University was one of three teams in the ASUN to have three players on all-conference and all-freshman teams, joining the 2023 ASUN Women's Basketball Regular-Season Champions Florida Gulf Coast and Lipscomb.
The Governors finished their inaugural ASUN regular season 16-11 and 12-6 in ASUN play, earning the No. 4 seed in the upcoming ASUN Conference Championship where they will host No. 5 Eastern Kentucky on Sunday at 3:00pm in the Winfield Dunn Center. Tickets to the event can be purchased here.

For news and updates throughout the Governors' first ASUN Conference Championship, follow the APSU women's basketball team on Twitter and Instagram (@GovsWBB) or check back at LetsGoPeay.com.
ASUN Postseason Honors
ASUN Player of the Year: Tishara Morehouse, Florida Gulf Coast
ASUN Defensive Player of the Year: Skyler Gill, North Alabama
ASUN Newcomer of the Year: Antwainette Walker, Eastern Kentucky
Sixth Player of the Year: *Shamarre Hale, Austin Peay
Freshman of the Year: Gracie Merkle, Bellarmine
ASUN First Team All-Conference
*Tishaa Morehouse, Florida Gulf Coast
Antwainette Walker, Eastern Kentucky
Sha Carter, Florida Gulf Coast
Mya Berkman, Liberty
Bella Vinson, Lipscomb
ASUN Second Team All-Conference

Shamarre Hale, Austin Peay
Gracie Markle, Bellarmine
Kennedy Gavin, Jacksonville State
Jah'Che Whitfield, Kennesaw State
Skyler Gill, North Alabama
ASUN Third Team All-Conference

Mariah Adams, Austin Peay
Alyza Winston, Florida Gulf Coast
Shynia Jacksonville, Jacksonville
Amani Johnson, Kennesaw State
Jalyn Holcomb, Lipscomb
ASUN All-Freshman Team
*Gracie Merkle, Bellarmine
Anala Nelson, Austin Peay
Molly Heard, Lipscomb
Jordyn Weaver, Queens
Jaelyn Talley, Stetson
*Unanimous selection