Clarksville, TN – The Knott family just held a couple of soft opening events, followed by a grand opening event for Varsity Pins, the latest concept to be unveiled at their entertainment complex near the intersection of Madison Street and Martin Luther King, Jr. Boulevard.
The entrepreneurial family has often been recognized for their contributions to Clarksville in recent years. As the owners of The City Forum, Dock 17, Miss Lucille's Cafe, and Marketplace, to name a few concepts at their giant 300,000 + square foot facility, they have a great track record of bringing new and fun ideas to the city.
"We sort of eased our way out of the event hosting business," Trent Knott said. " We decided to re-purpose, what was the Madison Room, into a place where couples can go for date night, without any kids, sort of an adult playground."
The new space will accommodate guests who are 21 and over Thursday thru Sunday. Wednesdays will be open to all ages, and provide more of a family-night feel.
"The space can accommodate about 300 guests," Knott said. "Inside, you'll find pinball machines,, basketball, darts, arcade axe throwing, and duckpin bowling, which is really trending right now."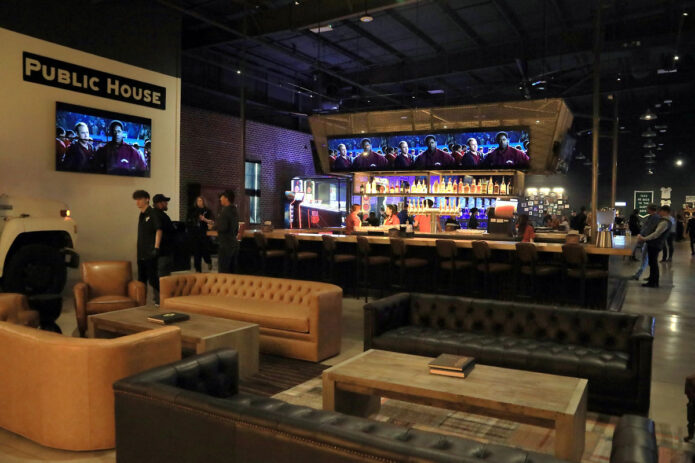 Duckpin bowling is a variation of the sport, which utilizes shorter lanes, and smaller balls that weigh about 3.5 pounds and are without finger holes.
"There are a couple of places in Nashville that have this," Knott said. "And it's fun. You can spend an evening bowling and not feel sore tomorrow. No special shoes or anything is required, just bowl as you are."
In the back corner of the space there is a taco bus. There is also a full bar, lounge seating, and lots of TV's for sports.

"We already have so many things to do that are family-oriented," Knott said. "This won't be a 'bar room' situation, we just really wanted to create a place that was 21+. Dock 17 is doing very well, and we still have City Forum, Miss Lucille's Marketplace, and Acme Athletics. We're also working on other ideas for the future."
Knott says Miss Lucille's Cafe is moving into the former Belle Hollow event space. This will allow the cafe to increase its seating capacity. There is also a new larger kitchen in the plan, as well as a separate catering kitchen.
Photo Gallery