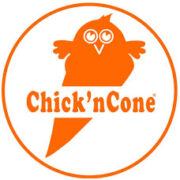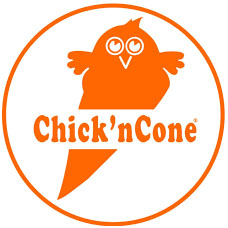 Clarksville, TN – The Clarksville Area Chamber of Commerce recently hosted a ribbon-cutting ceremony for Chick'nCone, a fast-casual restaurant that combines the savory goodness of fried chicken with the convenience of a handheld waffle cone.
The new restaurant, which is located at 1011 Winn Way, just off Exit 11, is the first Chick'nCone to be opened in the state of Tennessee. The grand opening celebration included free food samples, door prizes, and the official introduction of the company's new honey fire sauce.
Rosemary and Lewis Murphy are the franchise owners who made the Clarksville location possible.
"We are the first in Tennessee," Rosemary said. "We have friends who opened franchises in New York a couple of years ago. Lewis joined the conversation, "There are about 25 locations currently in the United States, and actually some locations in Dubai."
The Murphy's are originally from a farming community in Maryland. "We both grew up having fried chicken that was raised on the farm on Saturdays," Rosemary said. "Then, we'd get up on Sunday mornings and put that fried chicken on top of waffles, before church, with some maple syrup of course.
"We moved here in 2017, and we love it here."
Lewis says the company is always introducing new products.
"We have our new honey fire sauce for the month of May," Lewis said. "Which, I think, will become a staple. We have other sauces on the menu, but this has been so popular. Everybody loves it. Every month we do a new sauce or a new flavor of shake. Last month we debuted our new banana milkshake. The company is always coming out with something new."
Chick'nCone's menu includes chicken sandwiches, tenders, and their signature Chick'nCones (handheld chicken & waffles) as well as fries and shakes.
Chick'nCone is located just off Highway 76, in the same complex as Orange Theory Fitness and Papa Johns.
For more information, go to www.chickncone.com., or find them on Facebook, and Instagram.
Photo Gallery