Clarksville, TN – Every week, Clarksville Online will be bringing you pets from different rescue organizations that are in need of a good home in Clarksville-Montgomery County and surrounding areas. This week's pets are for the week of May 22nd, 2023.
Dogs and cats of all ages, breeds, and sizes are available through area animal rescues and shelters, as well as opportunities to help homeless animals through foster programs, donations, and help with fundraisers and other family-friendly activities.
Contact a rescue near you to learn more.
Montgomery County Animal Care and Control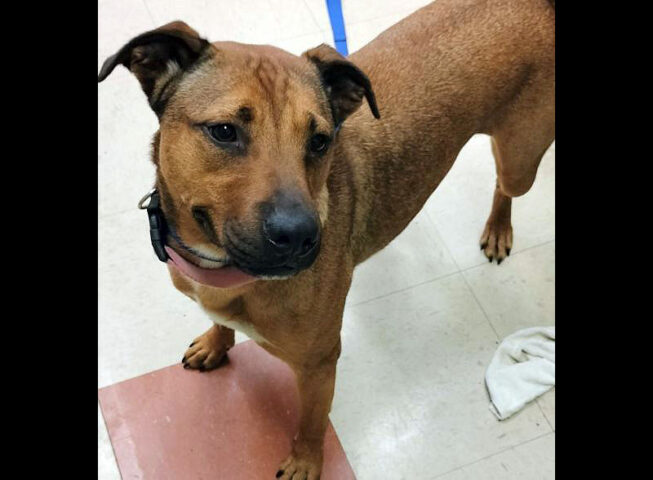 Maia is a young (2-3 year old) female Labrador Retriever mix. She is very sweet, is current on all vaccinations, and is spayed so she can go home the same day! For more extensive details MCACC will be glad to answer your questions.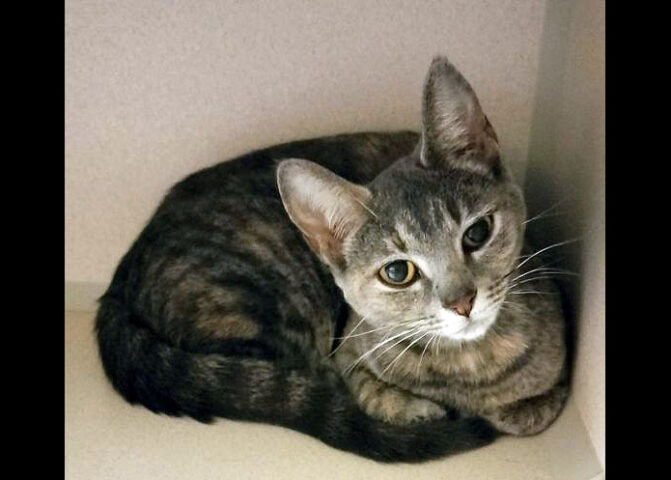 Solace is a young female Domestic Shorthair. She is litter trained, fully vetted, and will be spayed before heading to her new home. Come check her out! Solace will make someone a wonderful family addition.
Find them both at Montgomery County Animal Care and Control, 616 North Spring Street, 931.648.5750, www.facebook.com/MontgomeryCountyAdoptionServices
Finders Keepers Cat Rescue
Colby is quite the "cheesy' guy! He is a young male domestic shorthaired cat. Colby is fully vetted, neutered and litter trained. He is good with children, cats, and dogs. Colby is a sweet, affectionate, laid-back boy looking for his forever home.
He can be found through the Finders Keepers Cat Rescue, message them on FB or www.petfinder.com/member/us/tclarksville/finders-keepers-cat-rescue-tn984/ or email finderskeeperscatrescue@gmail.com
Cat Adoption Team of Stewart County (CATS)
Meet Olive! She is a 12-week-old little ball of fun! Olive is fully vaccinated, litter trained, neg.on FELV/FIV, spayed, and on flea and tick prevention. She is cute, funny, playful, and is looking for her forever family!
She can be found through the Cat Adoption Team (CATS). Contact Susan at 931.305.8212 text or leave a message or message through their FaceBook page www.facebook.com/CatAdoptionTeamOfStewartCountyCATS
Stewart County Faithful Friends Animal Rescue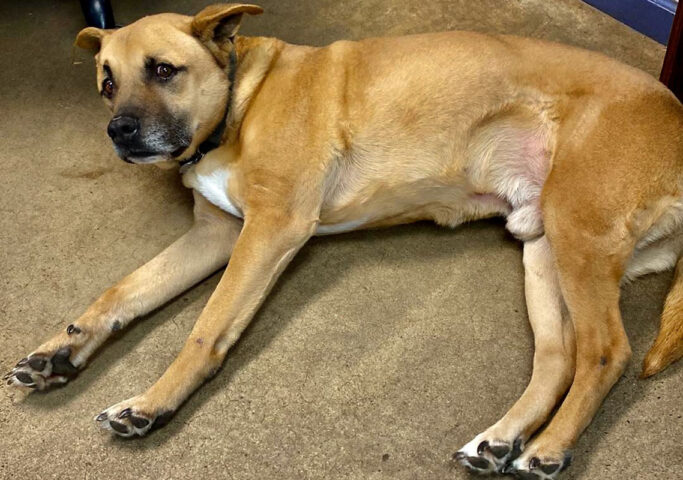 Bruce is still looking for his forever family. Bruce is a Lab mix and is approximately 7-8 years old, very sweet, and low-key. Bruce is fully vetted, house trained, neutered, and on HW prevention. Bruce was raised by a single male owner who could no longer care for him due to health reasons so Bruce does tend to be more male-oriented.
He bonds very quickly to his "person" and becomes your velcro boy. He does need to be the ONLY pet in the home and NO CHILDREN, please. This boy still enjoys long leisurely walks and spending time with his person. He needs a quiet, calm home so someone who is retired or even works from home would be ideal.
If you think Bruce will be a great addition please come for a meet and greet through Stewart County Faithful Friends Animal Rescue, 931.627.1459, www.facebook.com/scffar2010/
Companion Pet Rescue of Middle Tennessee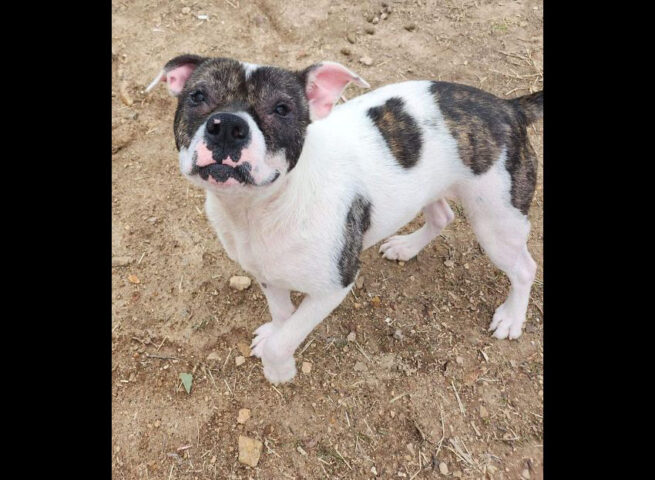 Jupiter is just the cutest female Pit Bull terrier mix and this lovebug is still looking for her forever home. She is friendly, affectionate, smart, playful, and funny. Jupiter is fully vetted, spayed and house-trained. She is good with children but will do her best as the only pet in the home.
Jupiter has had some skin issues that are cleared up now and does have allergies so she will need special food and allergy shots and eye drops for having dry eye. We know this seems like a lot but she is just the sweetest girl who will thrive with a family willing to keep up her vet visits and take care of her allergies. She deserves a family who will help her become her best self!!

Jupiter can be found through Companion Pet Rescue of Middle Tennessee, 615.260.8473, or www.facebook.com/companionpetrescueofmiddletennessee/
Two Ladies Caring Dog Rescue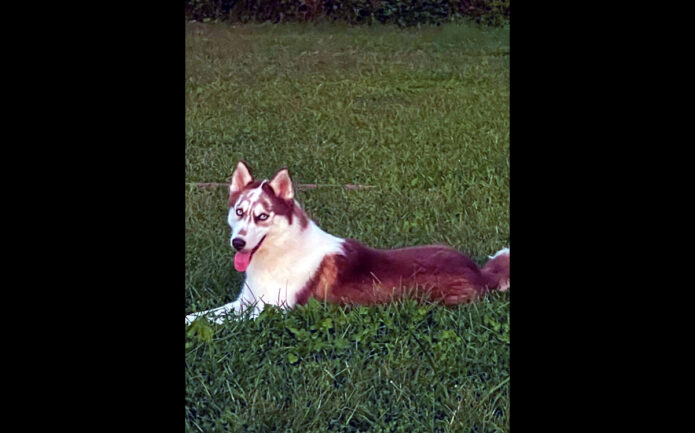 Penny is a stunning one-year-old Red Siberian Husky. She is friendly, affectionate, and playful. Penny is fully vetted, microchipped, house-trained, and knows the doggie door. Penny enjoys playing with other dogs and is fine around children but no cats, please.
A fenced yard is preferred but with an active family, she may be fine. Huskies need plenty of exercise, mental stimulation, and plenty of outdoor adventures.
Come for a meet and greet. For more details and information you can find her through Two Ladies Caring Dog Rescue, 931.217.1587, www.petfinder.com/shelters/TN505.html
Sagley's Biker Bully Farm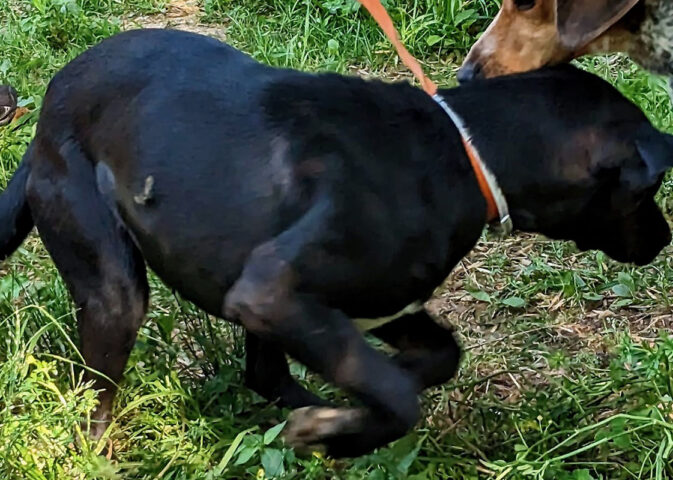 Dahlila is a 1-2-year-old female Black Lab mix. She is fully vetted, has vaccinations/rabies current, and is spayed. She is good with people and loves other dogs!
If you are looking for that special new family member please reach out to Lisa at Sagley's Biker Bully Farm, 785.207.5641 or www.facebook.com/SBBF.Rescue
Puurrrfect Paws Rescue & Cat Cafe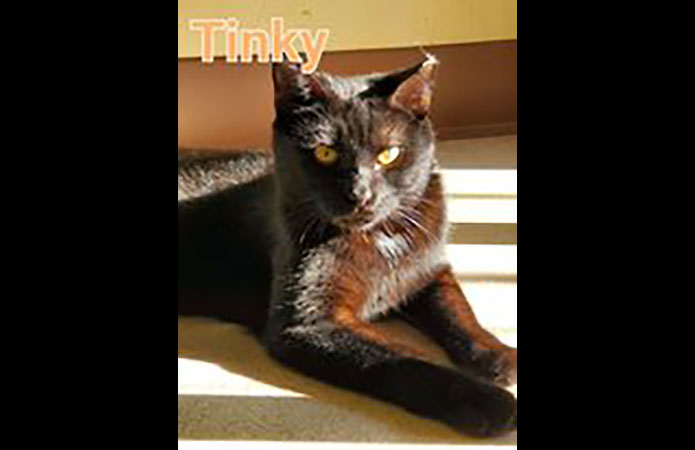 Tinky is an 11-month-old female who was rescued from a feral colony and has enjoyed the benefits of a warm place to sleep, all the food she wants, and lots of toys and affection from her fosters. She loves playing and is fully vetted, spayed, and litter trained. Tinky has been good with other cats but has not been around children or dogs.
To set up a meet and greet and for more information on all the cats please go to www.puurrrfectpawsrescue.com or message them through their Facebook page, Puurrrfect Paws Rescue & Cafe.
Hot Rod's Garage Senior Sanctuary
Gidget is an absolute delight! This sweetheart is friendly, affectionate, playful, and smart! She is fully vetted, spayed, and house-trained. Gidget and her siblings were rescued after being found in the trash. YES, YOU READ THAT RIGHT. Thankfully the rescue got them into safe, loving foster homes and discovered Gidget and the others were just starved for love and affection.
Turns out she is just the biggest snuggle and cuddle bug! Gidget will do best with someone home all the time, possibly retired or even someone living alone looking for a compact size loving companion. If you think Gidget will be a great fit in your life and you can be that special friend, please contact the rescue.

For more details call 931.801.1907 or email Hrgsrsanc@gmail.com https://docs.google.com/forms/d/1GwXSlg0hKDKniRHmrTkHuRwGG9s-3GQ8Ke1Ftdg-F-Q/edit?usp=sharing
Mikaela's Mutt Motel
Cobbler is a sweet 5-month-old male Bloodhound mix. He, along with Strudel and Truffle are members of the " Bakery Litter" that Mikaela rescued. This group is just the cutest pups! Cobbler is 45 pounds of pure love and he is neutered, microchipped, and fully vetted, plus on Heartworm and flea and tick prevention.
He is almost house-trained, does fine in his kennel, and is great with children, cats, and other dogs. His adoption fee comes with a free training evaluation at Legend Acres and 50% off 2 months of Parapooper Scooper if you live in their service area.
To find out more about him you can go to www.mikaelasmuttmotel.org/cobbler or message them on Facebook at www.facebook.com/mikaelasmuttmotel
You can also reach them at 931.342.2526 and emailing adopt@mikaelasmuttmotel.org