Clarksville, TN – The City of Clarksville continues to make progress on several key capital projects that are budgeted.
Projects range from the Rossview/Exit 8 Athletic Complex to the revitalization of the Frosty Morn property in the Red River District, to new public safety facilities, and much more.
With the current fiscal year winding down, here is a summary report on where some of the key projects now stand:
Rossview/Exit 8 Athletic Complex
Roadway construction that provides access to the park is about 50% complete. Upon roadway completion this summer, work can start on the park amenities such as multipurpose fields, pavilions, restrooms, and a playground built to Americans With Disabilities Act specifications.
Phase I of the complex has a projected bid opening in June.
Silicon Ranch Solar Farm
Groundbreaking was held May 17th, after Silicon Ranch completed the purchase of the property from the City to begin construction of a solar power array just south of the planned, new Athletic Complex.
Frosty Morn Revitalization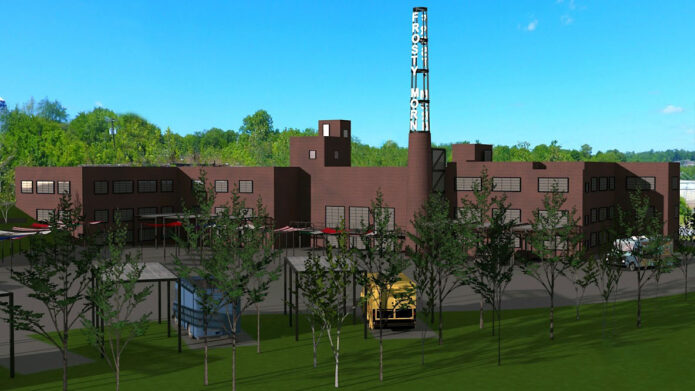 An initial selective demolition phase to remove existing interior finishes, unnecessary walls, and roofing from the old Frosty Morn structure, has begun. The initial phase will facilitate ongoing engineering and design as well as future construction.
A follow-up "dry-in" phase is expected in late summer or early fall 2023. These two phases will make way for future site development and build-out phases. Programming of the site has not been solidified but may include event space, a community kitchen, makers spaces, a food court, restaurants, food truck vending, a farmers market, an outdoor amphitheater, and office space for nonprofits and city offices.
Red River Pedestrian Bridge
The bridge will connect the greenways between Red River East and APSU Trails (off Kraft Street), and the Pollard Road Trail at the end of Pollard Road. This will result in approximately 11 miles of interconnected greenway trails. This project is nearing design completion. This project is expected to begin construction in the fall of 2023.
Outlaw Field Public Safety Complex
The Clarksville Regional Airport Authority has conveyed to the city approximately 7.25 acres of Outlaw Field, directly behind Clarksville Fire Rescue (CFR) station 7. This site will enhance overall public safety responsiveness and efficiency as the City grows.
This site will host the new Clarksville Police Department (CPD) District 4 Precinct; an additional County-funded Emergency Medical Service (EMS) station; a North Clarksville refueling point for gasoline, diesel, natural gas, and electric-powered vehicles and equipment; a salt shed; an equipment lot; and a joint departments operations and storage building are also planned for the site.
Clarksville Fire Rescue Administration/Training Facility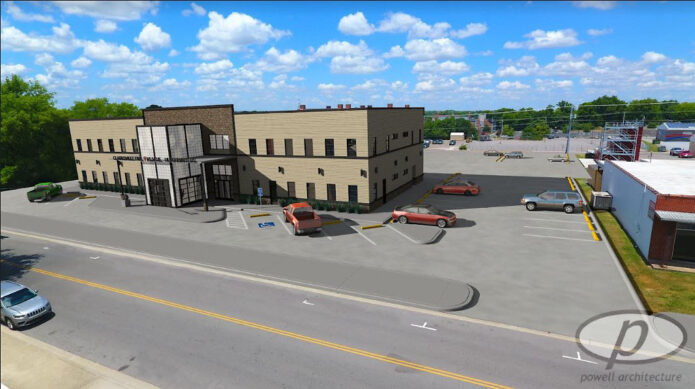 This new facility will replace the existing Clarksville Fire Rescue Administrative, Training, Fire Safety, and Fire Prevention offices, which were housed in two old, repurposed wood-framed structures. Additionally, the CFR storage building will be replaced along Main Street on the CFR #1 campus, making way for the Admin/Training facility.
With a workforce that exceeds 250, CFR has long since outgrown these two old, non-compliant structures. Rather than spending money and time sending firefighters to train at the State or other municipalities, CFR conducts much of their training in-house, saving the City time and money.
The new facility will be located on Franklin Street where the Fire Prevention Office was previously located. The new facility will be two stories and 20,000-plus square feet. The ground level is planned for training, and the second story is planned for the Administrative, Fire Safety, and Fire Prevention offices.
New Parking Garage at First Street and Commerce Street
With the opening of the F&M Bank Arena, a planned City Performing Arts Center (Roxy Regional Theatre), and the continuing downtown growth trend, the need for additional parking is being addressed by the City through the construction of a new 587-space parking garage.
The new garage will be located at the corner of First Street and Commerce Street adjacent to the existing Cumberland Parking Garage. This project is anticipated to be completed in Spring 2024. Site preparations are beginning.
Performing Arts Center (Roxy Regional)
Lyle Cook Martin, a local architecture firm, has been contracted to provide architectural services for the new Performing Arts Center. This contract has recently been executed and the design team is gathering information for a preliminary design meeting. The design team is currently making revisions to preliminary designs.
Smith Trahern Mansion
This majestic, city-owned, antebellum home located adjacent to the Riverview Cemetery at McClure Street and Spring Street is a National Register of Historic Places-designated property that has been used for many years by Clarksville residents as a small event venue for weddings and similar events as well as educational tours.
A scope of services and contractor have been selected to perform the rehabilitation of the property. The current scope of work includes window reproduction, and repair of rotted millwork, trim, siding, balcony repairs, ironwork repairs, gutter repairs, and roofing repairs. Construction has begun and completion is expected by early summer.
Ajax Turner Improvements
A design concept and rough opinion of probable cost have begun for the Ajax Turner Senior Center. Some items being considered include better accessibility on the exterior of the building. Having accessible areas on the exterior facilitates outdoor opportunities for patrons, especially those experiencing cognitive disorders.
Other items being considered are an accessible route to the facility storm shelter from the Adult Day Care area, and providing a substantial canopy for drop-off and pick-up at the Adult Day Care.
At present time, approximately 60% of the roof and HVAC equipment are beyond their expected lifecycle. Funding for these asset preservation items will be sought with the FY24 budget, with other improvement requests in subsequent years.
L&N Train Station
The train station has been utilized by the Montgomery County Historical Society and has had no significant work performed on it since 1995 when it was restored. This building needs a substantial amount of repairs to the embarkment canopy as well as painting.
A few other repairs and improvements will also be made if current funding is adequate. This facility will be used as a small events venue that will be operated by the Clarksville Parks and Recreation Department.
New Clarksville Fire Rescue #6
The existing Clarksville Fire Rescue #6 located on Ashbury Road was originally constructed in 1968. Because of population growth, there is a need to increase the number of firefighters assigned to this station, as well as house additional needed equipment.
Additionally, improved emergency response times are needed to the areas being served by this fire station. Due to a small existing site and restrictive topography, it has been determined that a new CFR #6 is needed to replace the Ashbury location.
The City has purchased property located at the intersection of Arrowood Drive, and South Jordan Drive just south of Purple Heart Parkway. CFR plans to begin construction at the start of fiscal year 2024 pending City Council approval of construction funding.
Replacement of Clarksville Fire Rescue #3
Clarksville Fire Rescue #3 is located on Maxwell Drive. This facility was originally constructed in 1965. Because of the need for additional personnel and equipment, enlarging this facility is a necessity.
The existing facility also does not have male and female restrooms, it is not ADA-accessible, and it does not have decontamination facilities to protect firefighter health. This project was originally planned as a renovation. Due to projected renovation costs, the project is now being planned as demolition and reconstruction.
Edith Pettus Park Improvements
The need for a regulation-size football field and additional practice areas with lighting in this neighborhood has driven this project. The new field layouts will include a regulation-size football field, a smaller practice field, a basketball court, and new athletic field lighting. This project has been awarded to BR Miller Company for construction.
Beech Street Park
Beech Street Park will be a new neighborhood park in the New Providence area. The park will eventually have a well-lit playground, a pavilion, open space, and parking. Much of the work for this project is being provided by various City departments including Forestry, Parks and Recreation, Building and Codes, Street Department, CDE Lightband, and the Clarksville Gas and Water Department.
The site work is approximately 30% completed. The playground equipment and pavilion are expected to be ordered in May 2023.
The preceding project summaries are not an exhaustive list of all City General Capital Projects. The list also does not include Clarksville Gas & Water, CDE Lightband, Clarksville Transit System, or Transportation 2020+ capital projects