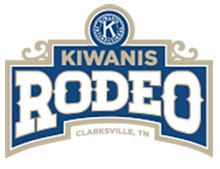 Clarksville, TN – The 34th annual Bill Hoy Kiwanis Rodeo of Clarksville brought three nights of rodeo fun to the people of Clarksville-Montgomery County this past weekend, as for the first time, organizers added a slate of events on Thursday night.
7,500 people were expected to see all the action at Montgomery County 4-H Arena, according to 2023 Chairman, Will Sanders.
"Past President Brandon Bridges and I, along with dozens of other individuals have worked hard to bring this event to the people of Clarksville, " Sanders said. "We've had at least a dozen people here every night. Our organizing committee, about ten of us, has met monthly for the last six months. This is a lot of work. We really appreciate all our sponsors, vendors, and everyone who has worked so hard on this. It's a tremendous production."
In another first for 2023, an overflow session had to be created due to the increased number of contestants.
"This rodeo is growing in popularity," Sanders said. "The number of participants at this year's event forced us to run "slack", an overflow event on Friday morning for all the contestants who couldn't get into the Thursday night lineup.
"We're hoping to have 7,500 people at this year's rodeo. We had 5,500 in two nights last year, and now we've added a third night of events."
Sanders explained that all the funds raised at this year's Kiwanis' Rodeo will directly benefit local children.
"All our fundraising efforts benefit local kids, with programs like Reading is Fundamental, through which we provide every 3rd-grader in Montgomery County with books they get to keep. We're very proud of that."
Kiwanis of Clarksville donated $150,000 to the Explorers Landing kids exhibit at the Customs House Museum and Cultural Center.
Sanders, like everyone, was happy the long-awaited weekend had finally arrived.
"There is so much work, you almost forget how much fun it is," Sanders said. "This is our 34th rodeo, and it offers something for everybody. It keeps getting more popular. We're attracting the best talent and are just really proud of what the folks will see here this weekend. We have five top-tier NFR bull riders here tonight, and more throughout the weekend."
Photo Gallery