In a special called session of the Clarksville City Council, members voted 11 – 1 to approve severance agreements for Police Chief Mark Smith and Deputy Chief Bob Davis. Ward 2 Councilwoman Deanna McLaughlin cased the lone vote against the agreements, citing input from her constituents.
Before the vote Clarksville Mayor Johnnie Piper stated that he believed a leadership change among the two top police officers in the department would go a long way in healing the problems in the Clarksville police department. Deputy Chief Bob Davis who was scheduled to retire in June agreed to retire on February 1, 2007 along with Chief Mark Smith, but the city will continue to pay for any legal fees already associated with several discrimination law suits filed by members of the police department.Under the agreements, Smith will be paid a one-time payment of $75,000, and Davis will receive $15,642.
Several police officers present who have filed law suits when asked about the councils vote stated that they do not agree to pay a person to leave because if it was one of them who was being fired they would not be offered any type of severance pay. However all agreed that it is time for the community and for the police department to move forward in this matter.

This is just as applicable today as it was in 1967. All you need to do is swap out the word Iraq with Vietnam, and Iraqi with Vietnamese. It's frequently said that those who forget the past, are doomed to repeat it. This is something I think is absolutely on target. We forgot…

Martin Luther King speaks out against the Vietnam War.

This speech was released by Black Forum records, a subsidiary of Motown, and went on to win a Grammy in 1970 for the Best Spoken Word Recording.

Excerpts of a Sermon at the Ebenezer Baptist Church on April 30, 1967.
«Read the rest of this article»
The FreeThinkers for Peace and Civil Liberties held a Peace Vigil Sunday at Patriot's Park in Clarksville to mark another milestone in the Iraq War: 3,000 troops lost over the duration of the war.
Coming on the last day of 2006, the 3,000th death marks a sad ending to a grim year of loss, and sets a tragic baseline from which to start the New Year.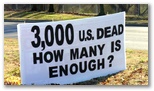 Large signs placed facing both north and southbound traffic asked the question: "3,000 dead; how many more have to die?" They also cited statistics that included the number of non-fatal injuries (45,000+) and the high incidence of mental health issues including post-traumatic stress that according to government reports affect about 25% of returning soldiers, a number some local psychologists and therapists feel is grossly understated. Iraq civilian casualties are estimated to be between 52,000 and 57,000. (Statistics from icasualties.org)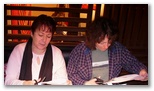 The vigil was organized by FreeThinkers founder, artist and activist Debbie Boen and activist/writer Christine Piesyk. Boen was saddened and frustrated by today's milestone number, which has been relatively unheralded, unnoticed in the bustle of the holiday season. «Read the rest of this article»

From all of us at Clarksville Online to you and all of yours. We wish you a merry Christmas and a Happy New Year and hope that your next year is better than the last.


Rev. Charles Moreland of Clarksville was presented with the Montgomery County Democratic Party's Lifetime Achievement Award Tuesday evening (Dec. 19) during the MCDP's annual holiday reception at the Smith-Trahern mansion. The award recognized Rev. Moreland's years of commitment and service to the party and to the community at large. Senator Rosalind Kurita made the presentation on behalf of the MCDP.
Rev. Moreland, a retired military chaplain and Methodist minister, "has worked tirelessly and enthusiastically" in support of the party, in addition to the many community services and activities he is involved in, Kurita said. The announcement drew a wave of applause for the well-known minister.

Betsy Ignacio was presented with the Major Nathaniel Carter Volunteer of the Year Award for her "dedicated" ongoing work on behalf of the party and its candidates.
MCDP Chairman Keith Amaral hosted the brief awards ceremony, acknowledging gains the party made across the country in the recent elections, urging MCDP members to "keep the momentum going" with an eye to the 2008 elections. «Read the rest of this article»

NASHVILLE — A broad-based coalition of local and national groups is urging the public to turn out for the Federal Communications Commission's second official hearing on sweeping changes to the nation's ownership rules.
The FCC public hearing will take place:
Monday, Dec. 11
Hearing Starts at 1 p.m. — Public Testimony until 9 p.m.
Massey Performing Arts Center
Belmont University
1900 Belmont Blvd.
Nashville
At 12 p.m. noon the Newspaper Guild, Communications Workers of America, American Federation of Musicians and other labor groups will hold a press conference at the hearing site at Belmont University.
All five FCC Commissioners are expected to attend the hearing. The event will feature an "open microphone" session for the public to offer testimony on a first-come, first-served basis. For more information, visit www.stopbigmedia.com/=nashville
The following people are available to provide comments on the event: «Read the rest of this article»

George Jones, Porter Wagoner, Naomi Judd to join hundreds of citizens concerned about the costs of media consolidation
NASHVILLE — On Dec. 11 in Nashville, legendary country musicians George Jones, Porter Wagoner, Naomi Judd, Dobie Gray and Craig Wiseman will testify about media consolidation's impact on musicians at an official Federal Communications Commission hearing. They'll be joined at the event by dozens of community leaders, several award-winning journalists, and hundreds of concerned citizens from throughout the region who are speaking out in response to the FCC's plans to change media ownership rules.
"I'm excited that pioneers of music and journalism — winners of Grammy Awards and Pulitzer Prizes — are speaking out about media ownership," said U.S. Congressman Jim Cooper (D-Nashville), who will also testify at the event. "Preserving a diverse spectrum of media voices is important to Nashville, and it's essential for a healthy democracy."
All five FCC Commissioners are expected to attend the hearing, which will feature an "open microphone" session for the public to offer testimony on a first-come, first-served basis. «Read the rest of this article»

The FCC has announced that the second official public hearing on media ownership issues will be held in Nashville, Tn.

Date: Monday, Dec. 11, 2006
Time: 1:00 p.m.
Location: Belmont University
    Massey Performing Arts Center
    Massey Concert Hall
    1900 Belmont Blvd
    Nashville, Tenn.
    Belmont Campus Map and Directions
Further details, including the full schedule and panelists, will be posted as they are available.
The hearing will feature two panels with oppportunities for public comment after each. The first panel will focus on issues related to the music recording community. The second panel will focus on local Nashville broadcasting and independent programming. «Read the rest of this article»

On black Friday, like many other Clarksvillians, I was out and about very early. At exactly 5am I was pulling into the filled to capacity parking lot in front of Best Buy. I was there to check out some of the holiday sales.
I found a nice camera in my low price range. A Panasonic Lumix model DMC-LZ3 for $149.00. I saved roughly $30.00 on the camera which by it's self wouldn't have encourage me to buy that day. But Best Buy also had the SD memory cards on sale. I was able to find a 2 gig memory card for the camera for only $29, a savings of $50.00 or more. Not wanting to endure the huge line I returned the camera with plans to return in the afternoon to pick it up. «Read the rest of this article»

It's the yearly day of thanks. Not that I don't give my personal thanks every day of the year, but on this special day we do it as a nation. We gather with family and friends and feast on turkey and other delicacies. There are always those who are unable to gather with their loved ones as much as they would like to be there. We should take a moment out of our day and remember them, pray for all of them all.
A video used to be embedded here but the service that it was hosted on has shut down.
This is a classic butterball turkey commercial from way back in 1959, just a bit of turkey history to share with you all today.