NASHVILLE — A broad-based coalition of local and national groups is urging the public to turn out for the Federal Communications Commission's second official hearing on sweeping changes to the nation's ownership rules.
The FCC public hearing will take place:
Monday, Dec. 11
Hearing Starts at 1 p.m. — Public Testimony until 9 p.m.
Massey Performing Arts Center
Belmont University
1900 Belmont Blvd.
Nashville
At 12 p.m. noon the Newspaper Guild, Communications Workers of America, American Federation of Musicians and other labor groups will hold a press conference at the hearing site at Belmont University.
All five FCC Commissioners are expected to attend the hearing. The event will feature an "open microphone" session for the public to offer testimony on a first-come, first-served basis. For more information, visit www.stopbigmedia.com/=nashville
The following people are available to provide comments on the event: «Read the rest of this article»

George Jones, Porter Wagoner, Naomi Judd to join hundreds of citizens concerned about the costs of media consolidation
NASHVILLE — On Dec. 11 in Nashville, legendary country musicians George Jones, Porter Wagoner, Naomi Judd, Dobie Gray and Craig Wiseman will testify about media consolidation's impact on musicians at an official Federal Communications Commission hearing. They'll be joined at the event by dozens of community leaders, several award-winning journalists, and hundreds of concerned citizens from throughout the region who are speaking out in response to the FCC's plans to change media ownership rules.
"I'm excited that pioneers of music and journalism — winners of Grammy Awards and Pulitzer Prizes — are speaking out about media ownership," said U.S. Congressman Jim Cooper (D-Nashville), who will also testify at the event. "Preserving a diverse spectrum of media voices is important to Nashville, and it's essential for a healthy democracy."
All five FCC Commissioners are expected to attend the hearing, which will feature an "open microphone" session for the public to offer testimony on a first-come, first-served basis. «Read the rest of this article»

The FCC has announced that the second official public hearing on media ownership issues will be held in Nashville, Tn.

Date: Monday, Dec. 11, 2006
Time: 1:00 p.m.
Location: Belmont University
    Massey Performing Arts Center
    Massey Concert Hall
    1900 Belmont Blvd
    Nashville, Tenn.
    Belmont Campus Map and Directions
Further details, including the full schedule and panelists, will be posted as they are available.
The hearing will feature two panels with oppportunities for public comment after each. The first panel will focus on issues related to the music recording community. The second panel will focus on local Nashville broadcasting and independent programming. «Read the rest of this article»

On black Friday, like many other Clarksvillians, I was out and about very early. At exactly 5am I was pulling into the filled to capacity parking lot in front of Best Buy. I was there to check out some of the holiday sales.
I found a nice camera in my low price range. A Panasonic Lumix model DMC-LZ3 for $149.00. I saved roughly $30.00 on the camera which by it's self wouldn't have encourage me to buy that day. But Best Buy also had the SD memory cards on sale. I was able to find a 2 gig memory card for the camera for only $29, a savings of $50.00 or more. Not wanting to endure the huge line I returned the camera with plans to return in the afternoon to pick it up. «Read the rest of this article»

It's the yearly day of thanks. Not that I don't give my personal thanks every day of the year, but on this special day we do it as a nation. We gather with family and friends and feast on turkey and other delicacies. There are always those who are unable to gather with their loved ones as much as they would like to be there. We should take a moment out of our day and remember them, pray for all of them all.
A video used to be embedded here but the service that it was hosted on has shut down.
This is a classic butterball turkey commercial from way back in 1959, just a bit of turkey history to share with you all today.

I have posted the election results. To view the results for Clarksville/Montgomery County Tennessee click the election 2006 results button at the top of the page, or click here.
I was going to write an article on the Democrats taking both the House and Senate, but due to my illness yesterday, Christine beat me to the punch. Read her article it's quite good!

With the narrowest of margins, it was announced tonight that the Democrats took Virginia, changing the power structure of the U.S. Senate in addition to the overwhelming shift in power in the House of Representatives. When I wrote my previous post on Tuesday's elections, several states had not yet counted all their ballots. Tonight, around 8:30, networks across the board announced a Democratic victory in Virginia – that critical 6thstate needed to change the balance of power in the Senate.
Add to that the resignation earlier of Secretary of Defense Donald Rumsfield, and the conciliatory "olive branch" offered by the soundly defeated Bush administration. «Read the rest of this article»

Voters, some angry, others frustrated, all determined to cast their vote, were sitting on hard metal folding chairs, or leaning against walls, waiting hours after the polls actually closed to punch the keys on the computerized ballot that would make their voices heard.
At 10:30 p.m. Tuesday night, several precincts were still in operation, still with long lines, and there would be no word on any local results until that voting was all but over. Coffee, hot chocolate and pizzas were delivered at several locations for hungry and sometimes chilled voters to consume. «Read the rest of this article»

I will be posting results later, but I am sick today in bed. I am also still waiting for 2 national races. So bear with me. Thanks for your patience.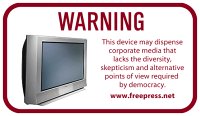 Tonight's theme is media consolidation and the corporate media. I have rounded up a collection of videos from Youtube and Google Video which highlight some of the issues raised by the massive over consolidation of the media, giving a just few companies,  full control over what you see, hear, and read. You only have to look at the recent attempt to rewrite history attempted by the Disney Corporation in cahoots with ABC to see why this should concern all of us. «Read the rest of this article»