Topic: 2010 Clarksville Writer's Conference
Luncheon speaker, John McDonald was introduced by Mary Nell Wooten as being a "visionary and playwright." He was definitely both when together with Tom Thayer, they opened the Roxy Regional Theatre in 1983. The Roxy is Clarksville's oldest professional theater, and home to the Roxy's Professional Company that reaches thousands of school children each year.
Another of McDonald's originations, the Summer Drama Camp, sponsored in conjunction with the Clarksville Department of Parks and Recreation,  and has been awarded the Ovation Award from the Austin Peay State University Center of Excellence for the Creative Arts.
Who is the man behind the drive to bring drama to Middle Tennessee?
«Read the rest of this article»
Chris Burawa, Director of the Austin Peay State University Center of Excellence for the Creative Arts (CECA) and conference director of the Sixth Annual Clarksville Writers' Conference, consistently describes Alice Randall as a "Renaissance Woman."
Introduced by Patricia Winn as the keynote speaker for the conference banquet held at the Clarksville Country Club, Alice Randall has credentials anyone can admire. She is the author of the controversial parady of Gone with the Wind, The Wind Done Gone (a winner of the 2001 Al Neuharth Free Spirit Award and on the best seller list for six weeks peaking at number nine). The Mitchell family had sued her publisher to block publication of the book; this resulted in a high profile lawsuit that created arguments concerning parody, freedom of speech, censorship and copyright law. An out-of-court settlement allowed the book to be published; the publisher, Houghton Mifflin, also made a financial donation to Morehouse College, long supported by the Mitchell estate.
«Read the rest of this article»
Born in Oklahoma City, Robert Love Taylor was introduced to jazz by a friend who took him to Ruby's, a café where all the booths had earphones that sugared recorded jazz into your brain. Previously he had accompanied his classically trained coloratura girl friend to classical concerts, but jazz awoke a whole new side of Robert's musical world.
During the formative years of his life, Robert Love Taylor studied accordion, saxophone, baritone saxophone, and pipe organ. He played not only in the school band but in a 16-piece dance band as well. In college, he majored in business until he hit accounting and then decided music would be a more suitable career for him.
In 1961, he dropped out of the University of Oklahoma to move to San Francisco to write poetry. It was the era of the "beat generation" and Robert didn't' want to be left behind. "I had read E.E. Cummings and thought to myself that this poetry gig looked easy, so I decided to give it a try," he recalled at the Sixth Annual Clarksville Writers' Conference. It was a time when many coffee houses featured poets and San Francisco had a radio station on Friday night that played jazz and the blues, he remembered. «Read the rest of this article»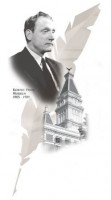 A. Scott Pearson was introduced at the Sixth Annual Clarksville Writers' Conference by Howard Winn, professor emeritus of Austin Peay State College and distinguished author in his own right. Professor Winn stunned the audience by revealing that Dr. Pearson had saved his life several years before when he was suffering from cancer.
Howard went on to describe the busy life of Dr. Pearson who not only serves at Vanderbilt University as an assistant professor in the surgery department specializing in oncology (involving teaching classes) but combines colon cancer research with the clinical practice of surgery. (In other words, he operates on patients too.) «Read the rest of this article»
An editor for Writer's Digest Books, Chuck Sambuchino is the author of two resource books for writers. His Guide to Literary Agents is a much have book for writers who are looking for an agent as is his Screenwriter's and Playwright's Market for those who wish be viewed in those markets.
He assists in editing Writer's Market and the third edition of Formatting and Submitting Your Manuscript (a Writer's Digest trade book, 2009).
In September, 2010, his humorous book, How to Survive a Garden Gnome Attack, will be available. His blog is found at www.guidetoliteraryagents.com/blog. He has placed more than 600 articles in newspapers, magazines and books.
Chuck knows how to get published. Here are some of his suggestions! «Read the rest of this article»
Now the John and Renee Grisham Writer in Residence at Ole Miss (University of Mississippi), Tom Franklin is author of Poachers, a collection of short stories; and novels, Hell at the Breech, Smonk, and his forthcoming Crooked Letter, Crooked Letter. His short stories have appeared in anthologies like New Stories from the South; The Year's Best, 1999; Best American Mystery Stories, 1999 and 2000; Best Mystery Stories of the Century. He edited with his wife, poet Beth Ann Fennelly, The Alumni Grill: Anthology of Southern Writers Volume II.
Born in Dickinson, Alabama, Tom describes himself as a nonhunter in a hunting family and the first person in his family to be a college graduate. He said his work has been called "industrial Gothic." He had held jobs like being a heavy equipment operator at a sandblasting grit factory, being employed at hazardous chemical clean-up sites, and working as a clerk in a hospital morgue.
«Read the rest of this article»
Fenton Johnson, the ninth of nine children, had just come from two months of taking care of his 94-year-old mother prior to his arrival at the Sixth Annual Clarksville Writers' Conference. Happy to no longer be treated as the "baby of the family" by his older siblings, he said he was g9lad to be back in the South.
Author of novels, Crossing the River and Scissors, Paper, Rock, Fenton reminded everyone that Kentucky is and is not of the South. On one hand, he said the famous Southern writer Eudora Welty claimed that her own grandmother, on returning from a visit to the Northern states, would make Eudora's father stop the car when they reached Kentucky so that she could touch the ground in the South." On the other, Fenton reminded those in the conference audience that Kentucky did not secede from the Union during the Civil War.
«Read the rest of this article»
"Poetry is the best method of understanding the human soul"–Beth Ann Fennelly
If there is a poet that understands the human soul it is Beth Ann Fennelly. As she read "3mths after having a baby" from her aptly named book Tender Hooks, she hooked all that were in attendance and tapped into the core of motherhood itself.
Fennelly is an Associate Professor of English at the University of Mississippi. Along with the 2004 publication of Tender Hooks, she is author of  A different kind of hunger (1997) Great with Child: Letters to a young mother and most recently the daring Unmentionables:Poems. Her 2002 book Open House: Poems won her the 2001 Kenyon Review Prize in Poetry for a 'First Book'.

«Read the rest of this article»
Introduced by Dewey Browder, Professor and Chair of the Department of History and Philosophy, Howard Winn. Professor Emeritus of history at Austin Peay State University and co-author of A History of Austin Peay State University, 1806-2001 and Clarksville Tennessee in the Civil War: A Chronology, advised participants of the Sixth Annual Clarksville Writers' Conference to use but not abuse history.
Howard gave examples of the abuse of history through a newspaper ad that took a quotation from Thomas Jefferson totally out of context. The full page ad's implication that George Washington, John Adams, Thomas Jefferson and Benjamin Franklin were supporting the idea of "In God We Trust" or the United States as a Christian nation was totally without merit, according to Dr. Winn's view. He went on to explain that "each of these men was an 18th Century revolutionary who sought to demolish the ancient tie between church and state that had impeded both the growth of liberty and non-established churches (Catholic, Anglican, Congregational).
«Read the rest of this article»