Topic: 5 Star Radio Group


The Clarksville Department of Parks and Recreation seeking to provide more activities for children in their late teens, kicked off a Party in the Park Friday evening. The inaugural event started off slow but by the end of the evening the kids were playing volleyball, dancing, lip syncing, and having fun socializing with other young people their age.
«Read the rest of this article»


The 16th annual Austin Peay State University Governors Bass Tournament is just one week away.
The tourney, postponed May 8th because of flood conditions, will be held Sunday, May 23rd, at Kentucky Lake, with registration and boat launching from Paris Landing, TN, State Park. It was the first time in tourney history that weather caused postponement.
Last season's tournament drew a record 333 boats, 64 more than the previous mark. «Read the rest of this article»
The Clarksville Area Chamber of Commerce held their first annual  Home, Lawn, and Farm Show  this weekend and over 50 local businesses participated. The businesses ranged from Wofford's Nursery to area banks. Hutson Inc was the Marquee sponsor, they  manufacture and market many of the products that you use to keep your home, lawn, and farm in tip top shape. Several thousand Clarksvillians attended the two day show which was held at the Austin Peay State University's Red Barn.
The floor was well laid out and intermixed large well-known businesses with smaller ones. Prizes were given out to attendees ranging from a Mature Tree Planting by Wofford's Nursery valued at $4,000, to two 42 inch LCD HD TVs by Anchor Mortgage.
«Read the rest of this article»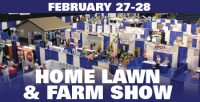 It's only 24 days until March 20th, the first official day of spring! And it's time to start thinking about your garden, your yard and what kind of flowers you want to plant this year! The Clarksville Area Chamber of Commerce is giving you a head start with their 1st Annual Home, Lawn & Farm Show, which is being held this weekend (February 27-28) from 10am-8pm Saturday, and Sunday from 12-8pm at Austin Peay State University's Red Barn at 256 Marion Street. General admission is $5, and children 12 & under are free.
Vendors will be available to help you accomplish all of your springtime goals, whether you want elaborate landscaping, a new patio or a simple flower bed. If you're thinking about renovating or redecorating your home, you don't want to miss this showcase of the year's new trends and must-have items. You'll also have the opportunity to see lawn and farm equipment demonstrations and test certain products.
Fifty local businesses will be showcased at the event and there will be multiple giveaways including: «Read the rest of this article»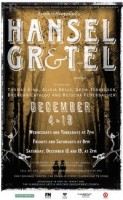 Lost siblings come across a sumptuous candy house, occupied by an old woman who has her own reasons for fattening up little children, in John McDonald's enchanting adaptation of the Engelbert Humperdinck opera Hansel and Gretel, playing December 4 through 19 at the Roxy Regional Theatre.
Directed by John McDonald, Hansel and Gretel stars Drew Torkelson as Hansel, Alicia Kelly as Gretel, Brendan Cataldo as Father, Reischa Feuerbacher as Mother and Dr. Thomas King as Rosina Dainty-mouth. Dr. Vicki King provides piano accompaniment. «Read the rest of this article»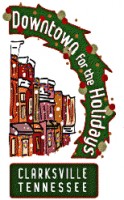 Celebrate the holiday season at the 3rd annual Downtown for the Holidays celebration in Downtown Clarksville. The family friendly Downtown for the Holidays event is set to take place Saturday, December 5.
The day begins at 9a.m. with the 2nd annual Jingle Bell Jog sponsored by the City of Clarksville and R3. Family activities hosted by the City of Clarksville and Montgomery County Government will begin at city hall and in front of the court house at 4p.m. followed by the much anticipated 50th annual Clarksville Christmas Parade presented by the City of Clarksville and the Clarksville Jaycees.
New to Downtown for the Holidays this year is the Christmas Cookie Bake-off sponsored by the City of Clarksville and Ingredients. Participants are required to bring two dozen of their favorite cookies and five extra for the judges to try. The two dozen cookies will go to the local the Salvation Army's James D. Amos Shelter. Entries must be submitted at Ingredients between 4-5p.m. that evening. «Read the rest of this article»


Clarksville's premier walk through holiday light display Christmas on the Cumberland will celebrate its 11th year with a grand opening ceremony November 24 at McGregor Park RiverWalk.
Next week's grand opening that gets underway at 6:30p.m. will include holiday entertainment and the official lighting of over 1 million lights by Mayor Johnny Piper. Special guests including Santa Claus, the Channel 4 News Snowbird, Charlie Brown and Mrs. Tennessee International Cydney Miller will be at the ceremony to visit with the children.
Christmas on the Cumberland officially opens November 24 and runs through January 1. It will be open to the public nightly from 5-10p.m. and 5-11p.m. on Fridays and Saturdays. Admission to the event is free.
«Read the rest of this article»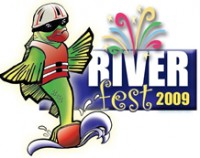 The weather on the second day of Riverfest turned out to be just as good as on the first. The full day of entertainment and wholesome family fun kicked off early with the Riverfest Regatta. The Regatta featured 26 teams racing custom made boats all crafted entirely from corrugated cardboard, Duct Tape, Silicone Sealant, Construction Adhesive, and paint.
This has to be one of the funnest events to watch during the entire festival. The shoreline was packed with people all on hand to cheer on their favorite teams.
«Read the rest of this article»

Draughons Junior College in Clarksville hosted their annual career fair on June 5th. The event brings local agencies and employers together with hundreds of  people who are actively seeking employment.
Some like Barbara Lucas had been looking for work (in the legal field) for over 6 months. She is currently considering returning to school. Jonathan Ligon said he was laid off 5 months ago, since then he has been unsuccessfully looking for work as a welder.  Beverly Cossingham unemployed for five months, is looking for an administrative or clerical positions. However, Katie Nolan probably summed it up best.  "I am looking for anything at this point, anything", she said.
«Read the rest of this article»

Draughons Junior College in Clarksville will be hosting "Hot Jobs in the City", a Community Career Fair on Friday June 5th from 10:00a.m. – 2:00p.m. Refreshments will be served! Q108 and The Beaver 100.3 FM, will be hosting a live remote from 11a.m. – 1p.m with  door prizes being given away every 10 minutes.
The last four career fairs they have held have been a huge success with over 300 people in attendance.
Employers and agencies planning to attend include: Montgomery County Government, 5 Star Radio Group, Goodwill Industries, THEC, Avon, Convergys, TN Department of Labor, Youth Villages, NIA Association, Cover Tennessee, Montgomery County Election Commission, Home Instead Senior Care, Fort Sill National Bank, US Bank, Blanchfield Army Community Hospital, Kelly Services, Troops for Teachers, Regions Bank,  Dr. Samson Orusa, Heat & Frost Insulators, Eiro Research, Tastefully Simple, TN Rehabilitation Center, Army and Air Force Exchange Services, Clarksville Police Department, Scentsy Wickless Candles, Sam's Club, Spring Meadows, The Kennedy Law Firm, Lowe's, Kohl's Brown, Brown and Associates, Clarksville Dental Center, Woodland Hills Youth Development Center, Tennessee National Guard, and Sendout Cards. «Read the rest of this article»