Topic: Arts Heritage Development Council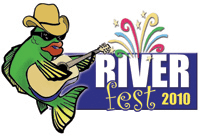 A former resident of the Boston and Washington, D.C. areas, I have been fortunate to see some great artworks in my life. I've also witnessed the recent "Emperor's New Clothes" variety (otherwise called "modern art" by some). My feelings towards some of the obscenities fostered on the public in recent years as "art" cannot be printed in this format. One only has to walk through the National Art Gallery where the display is chronological to see how talent somehow was replaced with publicity stunts to see how some artists have sold their souls to pure unadulterated "selling a bill of goods to the unsuspecting" to see what I mean.
«Read the rest of this article»
Luncheon speaker, John McDonald was introduced by Mary Nell Wooten as being a "visionary and playwright." He was definitely both when together with Tom Thayer, they opened the Roxy Regional Theatre in 1983. The Roxy is Clarksville's oldest professional theater, and home to the Roxy's Professional Company that reaches thousands of school children each year.
Another of McDonald's originations, the Summer Drama Camp, sponsored in conjunction with the Clarksville Department of Parks and Recreation,  and has been awarded the Ovation Award from the Austin Peay State University Center of Excellence for the Creative Arts.
Who is the man behind the drive to bring drama to Middle Tennessee?
«Read the rest of this article»
Chris Burawa, Director of the Austin Peay State University Center of Excellence for the Creative Arts (CECA) and conference director of the Sixth Annual Clarksville Writers' Conference, consistently describes Alice Randall as a "Renaissance Woman."
Introduced by Patricia Winn as the keynote speaker for the conference banquet held at the Clarksville Country Club, Alice Randall has credentials anyone can admire. She is the author of the controversial parady of Gone with the Wind, The Wind Done Gone (a winner of the 2001 Al Neuharth Free Spirit Award and on the best seller list for six weeks peaking at number nine). The Mitchell family had sued her publisher to block publication of the book; this resulted in a high profile lawsuit that created arguments concerning parody, freedom of speech, censorship and copyright law. An out-of-court settlement allowed the book to be published; the publisher, Houghton Mifflin, also made a financial donation to Morehouse College, long supported by the Mitchell estate.
«Read the rest of this article»
Born in Oklahoma City, Robert Love Taylor was introduced to jazz by a friend who took him to Ruby's, a café where all the booths had earphones that sugared recorded jazz into your brain. Previously he had accompanied his classically trained coloratura girl friend to classical concerts, but jazz awoke a whole new side of Robert's musical world.
During the formative years of his life, Robert Love Taylor studied accordion, saxophone, baritone saxophone, and pipe organ. He played not only in the school band but in a 16-piece dance band as well. In college, he majored in business until he hit accounting and then decided music would be a more suitable career for him.
In 1961, he dropped out of the University of Oklahoma to move to San Francisco to write poetry. It was the era of the "beat generation" and Robert didn't' want to be left behind. "I had read E.E. Cummings and thought to myself that this poetry gig looked easy, so I decided to give it a try," he recalled at the Sixth Annual Clarksville Writers' Conference. It was a time when many coffee houses featured poets and San Francisco had a radio station on Friday night that played jazz and the blues, he remembered. «Read the rest of this article»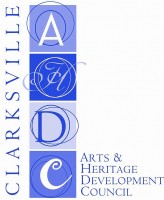 The Clarksville Arts & Heritage Development Council invites organizations seeking funding for artistic and cultural projects that benefit the community to apply for an Arts Build Communities (ABC) grant. A free grant workshop and information session will be held in the auditorium of the Customs House Museum (200 S Second Street, Clarksville TN) on Tuesday, August 4, at 3:00pm for interested applicants. While this workshop is not mandatory for applicants, first-time applicants are strongly encouraged to attend.
Arts Build Communities (ABC) is a program funded by the Tennessee General Assembly and administered by the Clarksville Arts & Heritage Development Council (AHDC) in cooperation with the Tennessee Arts Commission (TAC). ABC grants offer financial support for arts projects in all disciplines such as dance, music, opera/musical theater, theater, visual arts, design arts, crafts, photography, media arts, literature, interdisciplinary, and folk arts.
Funds awarded to a single organization in this grant category range from $500 to $3,000. Eligible organizations in the counties of Montgomery, Dickson, Houston, Humphreys and Stewart can apply for these grant funds. «Read the rest of this article»