Topic: B.O.S.S.
Remembering the past, Honoring the present
Dover, TN – I love small town festivals they have a certain je ne sais quois, a charm, an innocence that you just don't find in festivals held in larger towns. Don't get me wrong I love Clarksville's Rivers and Spires Festival, and adore Riverfest. But Dover's Eagle Fest was a lot of fun too. The festival is held Memorial Day weekend and the events continued non-stop.
The festival opened with your typical parade. However it wasn't overrun with rampant commercialism. Another charming aspect was that the children along the route were simply showered with candy; the various Beauty Queens were tossing it out by the handful. The Grand Marshal was a veteran A.J. Dalton.
«Read the rest of this article»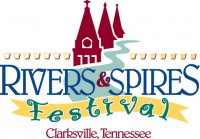 Clarksville, TN – Due to unseasonably chilly weather and a blustery wind, the third day of Rivers and Spires looked like it was going to end with a whimper rather than a bang, the victim of the unpredictable spring weather. However as the afternoon wore on, more and more people showed up to enjoy all that the festival had to offer. "The crowd hung in even though we had monsoon winds and rains, and I think it says a lot about this festival, and how much people enjoy it" said Festival Manager Doug Barber.
«Read the rest of this article»