Topic: Bailey-Killebrew House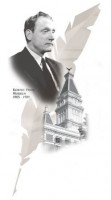 Whose backyard was reported to have a small plane crash when a new work of art was installed? What local church outgrew its beautiful Gothic sanctuary and renovated its gymnasium into the present-day area of worship? What local home now for sale was the previous residence of the ticket agent for the train station in the early 1900s? What local museum may be named in a Viet Nam era protest song?
If you had been a participant on Day 2 of the Architectural Heritage Tour, you'd know the answers to these questions.
The second day of the Architectural Heritage Tour, part of the Sixth Annual Clarksville Writer's Conference, presented eight locations that tell more tales of Clarksville history. An additional six members of the Clarksville community joined the previous participants on a bus tour never to be forgotten for its variety and beauty (in addition to that of the ladies on the bus!).
«Read the rest of this article»