Topic: Ball Bluebook Guide to Preserving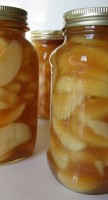 Apple season is pretty much over in Clarksville, but you can still find a few bushels of apples here and there for sale.  If you find them for a great price, you can do lots of things to preserve them.  Some of the ways I preserve apples are:
Drying
Wrapping and storing fresh
Apple Butter
Canning with a pie filling
I'll show you how to dry apples, make apple butter and even make decorations with dried apples in future articles and how to store fresh apples all winter in another. Today I want to share this delicious pie filling recipe. You'll love having it in your pantry this winter.
If you have never canned anything at home, you will want to find and purchase a Ball Bluebook Guide to Preserving before you attempt these instructions. Home canning is fun and helps save money, but it must be done correctly to keep your family safe from botulism and to keep yourself from getting burned or injured in the process. «Read the rest of this article»