Topic: Banned Book Week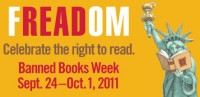 Clarksville, TN – During the last week of September every year, hundreds of libraries and bookstores around the country draw attention to the problem of censorship by mounting displays of challenged books and hosting a variety of events. The 2011 celebration of Banned Books Week will be held from September 24 through October 1. Banned Books Week is the only national celebration of the freedom to read.
It was launched in 1982 in response to a sudden surge in the number of challenges to books in schools, bookstores and libraries. More than 11,000 books have been challenged since 1982.
There are hundreds of challenges to books in schools and libraries in the United States every year. According to the American Library Association (ALA), there were at least 348 in 2010; the ALA estimates that 70 to 80 percent are never reported.
«Read the rest of this article»
In celebration of Banned Books Week, Clarksville Online will offer our readers articles, and Best Books lists — yes, lists — of the best in literature for both adults and children.  Have you read a banned Book? We hope so!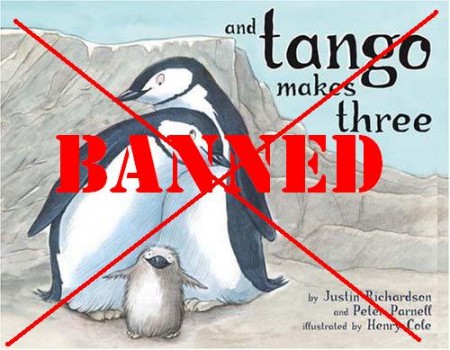 Justin Richardson and Peter Parnell's award-winning "And Tango Makes Three," a children's book about two male penguins caring for an orphaned egg, topped the list of American Library Association's (ALA) 10 Most Challenged Books of 2007. A year ago. This year's tally of challenges has three more months to go.
Three books are new to the list "Olive's Ocean," by Kevin Henkes; "The Golden Compass," by Philip Pullman; and "TTYL," by Lauren Myracle."Free access to information is a core American value that should be protected," said Judith F. Krug, director of the ALA Office for Intellectual Freedom. "Not every book is right for each reader, but an individual's interpretation of a book should not take away my right to select reading materials for my family or myself." «Read the rest of this article»