Topic: Barnabas Collins

Once upon a time there was a spooky old mansion, and a spooky old family, with a spooky old secret. Barnabas Collins, TV's first daytime soap opera vampire and acclaimed star of the 1960's daytime hit, Dark Shadows.
I'd get out of high school at 3, race home across the bridge from Holyoke to Chicopee in time to catch the opening credits, and when the closing credits rolled at 3:57 p.m., race three minutes to my job I had to be at work at 4. But I, like most of my friends, were obessive-compulsive about Dark Shadows and Barnabas Collins. Even my mother was lured from her "I never watch daytime TV" stance to stand in the parlor doorway and keep a wary eye on everyone's favorite vampire.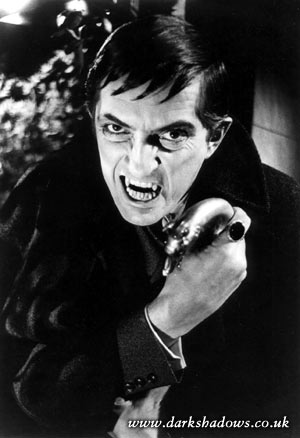 My friends and I lived for Barnabas Collins. He could bite my neck anytime. Quentin (a younger dashing vampire) was cute, but I always had a 'thing" for older men, especially ones with fangs. Canadian actor Jonathan Frid ( right), with his angular features, deep dark eyes and those oversized eye teeth, created the aloof, romantic master of the house.
Hauntings on Dark Shadows began about six months into the series, and skyrocketed to popularity when Frid made his appearance as a vampire about a year into the show, which arrived on the soap scene in 1966. «Read the rest of this article»