Topic: Bernie Ellis

Every Tennessee school child learns early on that our state has been blessed with heros throughout its history. Davy Crockett at the Alamo, Alvin York in the trenches of World War I Europe – we continue to revere the honorable people who sprang from our hills and hollows with the in-borne courage to do the next right thing when they were called on to do so. There are three other heros – two long-gone now and one who is still very much alive – who helped expand our franchise and, in the process, helped save our democracy. The two deceased heros were Harry Burn and Ben West. The third hero, the one who still walks among us, is Senator Tim Burchett of Knoxville.
Harry Burn was a first-term Republican state representative from McMinn county, the youngest Tennessee state legislator serving in 1920 when women's suffrage hung in the balance in our state. Back then, only one state was needed to ratify the Nineteenth amendment to the US Constitution, an amendment that would give women the right to vote. Like many legislators at the time, Representative Burn was under extreme pressure from sexist politicians back home to oppose the amendment, to keep women "in their place". Some even believed that Rep. Burn was a safe bet to vote against suffrage, since he wore a red rose on his lapel, a color then (and now) that represented exclusion and disenfranchisement. But as the pivotal vote approached, «Read the rest of this article»
Now, more than perhaps ever before, your voice will mean something for Tennessee. If you speak up in the next week, your voice will be amplified by the growing call to our legislature to move the TN Voter Confidence Act forward now. At this moment, this call from voters across Tennessee and across the nation is strongly bipartisan, broad-based and basic in its request: Let our votes count in Tennessee in '08. What follows shortly is an email action alert that is being sent to our core election integrity supporters here in Tennessee. Some of you are among that group, but many more of you are not. That is why I am writing to all of you myself, one last time.
Please take 30 minutes to voice your support to replace our non-verifiable touch-screen voting machines in Tennessee with paper ballot-based voting systems in time for the November election. To help you do that, I am sending you the latest call to action from Gathering To Save Our Democracy (www.votesafetn.org), and I am appending on that action call a few more steps you can take if you believe as strongly as I do that free, fair and verifiable elections matter in this country. «Read the rest of this article»
Tomorrow the House State and Local Government Committee meets in Room 16, Legislative Plaza to consider the Tennessee Voter Confidence Act (HB 1256), a critical measure that could mandate voter-verified paper ballots in Tennessee will be in place for the November 2008 election.
VoteSafeTN and Gathering to Save Our Democracy are making a final push to support this measure, and are encouraging Tennessee voters to the same by doing the following:
Email members of the House and Senate State and Local Government committees. Tell them we still have the time to make the changes necessary to scrap unsafe, unverifiable, insecure and problem-prone DREs in Tennessee for opscan voting systems or hand-counted ballots in time for the November 2008 election. «Read the rest of this article»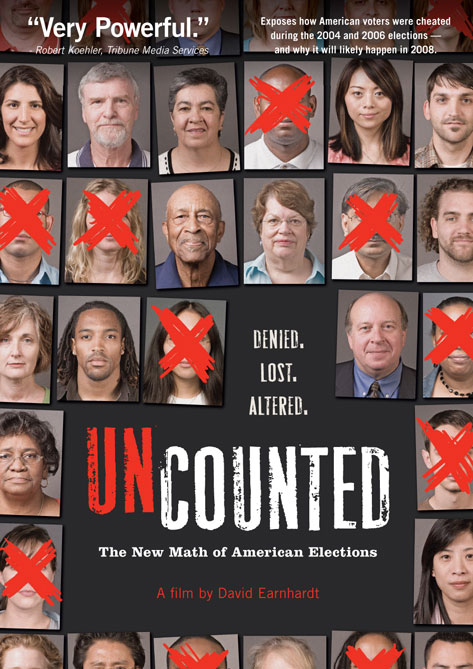 UNCOUNTED is a wakeup call to all Americans. Beyond increasing public awareness, the film inspires greater citizen involvement in fixing a broken electoral system. As we approach the decisive election of 2008, UNCOUNTED will change how you feel about the way votes are counted in America.
The Clarksville Public Library will be the setting for a free screening of the film UNCOUNTED on Saturday, February 2, at 3 p.m. in the large conference room. UNCOUNTED was produced and directed by Nashville's own David Earnhardt, and made its world premiere in that city last November to a standing room only crowd.
https://www.youtube.com/watch?v=h1BEdMSs-ro
«Read the rest of this article»
"A long way from where we started…"
With those words activist Bernie Ellis, a staunch advocate for traceable, verifiable voting records, cited a BRAD BLOG report announcing the publication of a major New York Times article on the issues surrounding electronic voting.
According to The BRAD BLOG, the NYT article includes a graphic of an exploding voting booth and a warning that your vote may be "lost, destroyed, miscounted, wrongly attributed or hacked." The story is reportedly titled "The Bugs in the Machine." The story claims that electronic voting machines may create far greater problems than hanging chads and cites a ten percent failure of electronic voting machines. http://www.bradblog.com «Read the rest of this article»
It's not too late to take action on the issue of electronic voting machines and demand a "verifiable vote" through paper trail and/or auditing. Activist Bernie Ellis (right), who is featured in the film UnCounted:The Movie and who addressed a Clarksville audience on Friday, today offers a fledgling "action kit" for worried voters who want to register their concerns with state leaders. These words from Mr. Ellis:
This "action kit" will get you started (or moving faster) to register your concerns with our state leaders.
Here are three things YOU CAN DO NOW to help up ramp up the discussion for voter-verified paper ballots and mandatory random audits here in Tennessee. «Read the rest of this article»
The Clarksville screening of UnCounted, a film targeting issues in electronic voting, drew fifty people to the Unitarian Universalist Fellowship Friday evening, filling the screening room to capacity for this special event. The film's producer, Patricia Earnhardt, and activist Bernie Ellis, addressed the group and fielded questions about the film and the increasing controversy over the accuracy and security of electronic voting machines.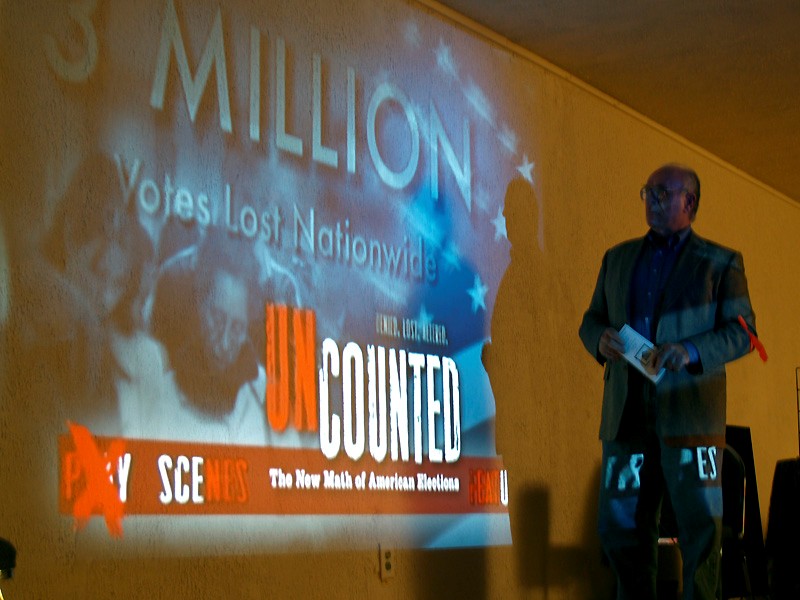 Bernie Ellis introduces "UnCounted"
Producers describe UnCounted as "an explosive documentary that shows how the election fraud that changed the outcome of the 2004 election led to even greater fraud in 2006 — and now looms as an unbridled threat to the outcome of the 2008 election. This controversial film examines…how easy it is to change election outcomes and undermine election integrity…" «Read the rest of this article»
The Clarksville premiere screening of UnCounted the Movie will be held tonight at the Unitarian Universalist Fellowship on Highway 41A South at 7 p.m. Admission is free. The film, written and directed by Nashville filmmaker David Earnhardt, addresses the issues surrounding electronic voting and calls for a paper trail documenting all electronic voting.
Activist Bernie Ellis, who is featured in this film, will facilitate a panel discussion on electronic voting following the film.
Earnhardt was also originally scheduled to attend this session and field questions, but a traffic accident on Thursday that injured family members precludes his attending this event.
The program is sponsored by the Unitarian Universalists, the Freethinkers for Peace and Civil Liberties, and Clarksville Online. Refreshments will be served and the public is welcomed to the first public showing in Clarksville of this important film.
Recently the Secretaries of State in all fifty states received subpoenas in the National Clean Election lawsuit, according to Bernie Ellis, founder of the Nashville based group, Gathering to Save our Democracy. There is still time, Ellis said, to require a paper trail for the 2008 election.
"The lawsuit aims to establish that all computer systems (or other systems) which hide the ballots from the people for even a short period of time before the count is accomplished and the results are posted – are unconstitutional…The lawsuit argues persuasively … that the use of computer and machine election systems violate each citizen's right to vote, as defined at least twice by the Supreme Court of the United States. "
– Jim Condit Jr., NetworkAmerica.
The reason for the push to have paper verified elections is evident in the recently released documentary, UNCOUNTED, by David Earnhardt. The film will make its Clarksville debut Dec. 7 at 7 p.m. the Unitarian Universalist fellowship on Highway 41A South. The event is free. «Read the rest of this article»

Film Director David Earnhardt and activist Bernie Ellis are coming to Clarksville for this city's premiere screening of Earnhardt's new film, Uncounted: The Movie on December 7 at 7 p.m. at the Unitarian Universalist Fellowship at 3053 Highway 41A South (two miles past WalMart on Madison).
Uncounted is a new documentary that explores the issues surrounding electronic voting and is a strong statement in support of a "paper trail" documenting how Americans cast their votes.
The film tackles the issue of voting machine error/failure, the need for a paper trail of votes, the political and business ties between government officials and manufacturers of these DRE (Direct Recording Electronic) voting machines, and the ease of tampering with such machines and "flipping" votes that are electronically counted.
"I cannot think of anything more important than to save the core of our democracy — the vote! — David Earnhardt (at right)

The film also reviewed extensive cases of mechanical errors, lost votes, voters turned away from polls, incomplete ballots and the installation of uncertified software into voting machine reported from across the nation.
«Read the rest of this article»