Topic: Bill Roberts Automotive & Marine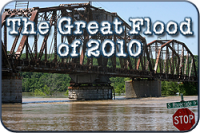 Rivers Side Drive re-opened at 4:45pm today making the last major traffic artery in Clarksville, TN to be closed by the Great Flood of 2010 available to the public once again. The road has been the subject of intensive attention by the Tennessee Department of Transportation and the City of Clarksville's Street Department from the moment it emerged from the receding flood waters. The road had been kept closed partially to give business owners time to remove flood debris from their businesses, and the city time to remove it from the roadside.
While the curfew in the area is no longer in effect, the Clarksville Police Department will be conducting extra Patrols along Riverside Drive to prevent looting. There were two instances of attempted looting during the flooding, one at the Rhino Mart and the other at Riverside Pro Archery.
«Read the rest of this article»