Topic: Blackstone Group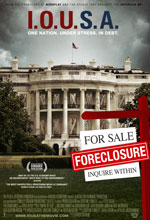 For one night only, Nashville's Opry Mills and Green Hills cinemas will screen I.O.U.S.A., a Sundance award-winning documentary on the state of the nation's finances The screening, which starts at 7 p.m. CST, is integrated into a broadcast panel discussion.
The live discussion with America's most notable financial leaders and policy experts, including Warren Buffett, CEO of Berkshire Hathaway; William Niskanen, chairman of the Cato Institute; Bill Novelli, CEO of AARP; Pete Peterson, senior chairman of The Blackstone Group and chairman of the Peter G. Peterson Foundation; and Dave Walker, president & CEO of the Peter G. Peterson Foundation and former U.S. Comptroller General, promises riveting dialogue and keen insight into the crisis we currently face. The panel will be moderated by Becky Quick, co-anchor of CNBC's morning news show Squawk Box.
From the producers of Wordplay and the studio that brought you Supersize Me, the must-see documentary I.O.U.S.A. uncovers the source of critical economic concerns that touch the lives of every American. A tapestry of archival footage, hard data and candid interviews woven together, it paints an authentic profile of today's economic condition. Solutions for how we can impact this nationwide crisis and evolve into a more fiscally sound nation for future generations are offered by the documentary's powerful conclusion. «Read the rest of this article»