Topic: Blaze of Glory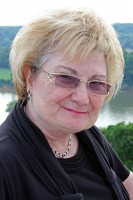 Clarksville, TN – Sue Freeman Culverhouse, long a staff-writer for ClarksvilleOnline.com, features eleven Tennessee authors in her new book. Tennessee Literary Luminaries: From Cormac McCarthy to Robert Penn Warren (The History Press, Charleston, SC, 2013). Her author website, www.sueculverhouse.com, links her readers to information about the book and her upcoming blog.
"I'm tired of people outside Tennessee believing that we're all wearing overalls without a shirt, chewing tobacco, going barefoot, toting six-shooters, and living off road kill," Culverhouse admits. "I want our youngsters to be proud of the literary heritage these and other Tennessee writers have contributed to the world of literature. All of the authors in my book have interesting lives in addition to having written not-to-be missed books."
«Read the rest of this article»

Clarksville, TN – Marshall Chapman is in herself a blaze of glory so it's not surprise that her new CD is called, "Blaze of Glory." To be in the room with Marshall is to find yourself in a place where the unexpected is the norm. To put it mildly, Marshall is a ball of fire.
This new CD, coming out on May 28th (and you can preorder at her web site, www.Tallgirl.com), is the best so far—and that's no mean feat.
«Read the rest of this article»