Topic: Blue Candle
Display a Blue Candle to Remember Slain Officers
NASHVILLE -The Tennessee Highway Patrol (THP) encourages Tennesseans to support C.O.P.S. (Concerns of Police Survivors) this holiday season by displaying a blue light in your home or office window.
A blue light, candle or holiday decoration honors and remembers those law enforcement officers who have given their lives in service to their profession and thanks those who continue to work America's dangerous streets and highways every day of the year.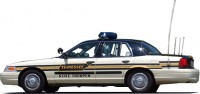 THP and the Tennessee Department of Safety strongly support C.O.P.S. Colonel Mike Walker has asked each captain in the Highway Patrol's district offices and scale complexes to display at least one blue light during the month of December. A blue candle is displayed in the Colonel's office at Foster Avenue in Nashville and at his home in support of the effort.
"The holiday season is an especially tough time for families who have recently lost loved ones. The same rings true in the law enforcement family," he said . "We need to remind everyone to place a blue light in their holiday decorations or window as a sign of thanks to law enforcement officers who are working to keep our communities and highways safe, and as a reminder of those who have paid the ultimate sacrifice." «Read the rest of this article»