Topic: Brett Smith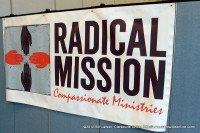 Clarksville TN – The 5th annual "Warm Souls Christmas Celebration" was held Monday at the Hilldale Baptist Church Activities Center on Old Farmers Road.
Over 1200 Clarksville area citizens were treated to live music, a free shopping spree, Christmas portraits, free haircuts, free gifts, and more, provided by Radical Mission Compassionate Ministries.
«Read the rest of this article»
Clarksville, TN – 5-1/2 years ago The Clarksville First Church of the Nazarene saw a need in our community that had to be met. They had people who would come in to the Church from the streets needing food, shelter, and other things. Out of this need emerged a new Radical Mission for the church, embracing our community through compassion, and so that is what they named it.
"People who come to us for help are Friends and neighbors first, not just clients" said Brett Smith, the Director of Radical Mission Compassionate Ministries at Clarksville First Church of the Nazarene.
«Read the rest of this article»