Topic: Brian E. Kiley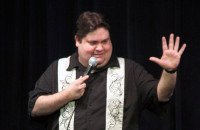 Nashville, TN – Family and friends will gather at Centennial Park Event Shelter in Nashville this Sunday, as some of the funniest comedians in the Music City will gather to remember their friend, Brian E. Kiley, who was killed by a drunk driver while returning home to Nashville from a North Carolina performance.
This comedy show, includes a one mile walk and auction, which will raise money for the Brian E. Kiley Memorial Fund to benefit his wife and step-daughter.
«Read the rest of this article»

Clarksville, TN -I simply can't put into words the sadness I'm feeling over the death of Nashville comedian, Brian E. Kiley.  I met him when I entered the Nashville comedy scene a few years ago. He was an amazing comic, and just one of the nicest guys I've ever met.
Brian E. Kiley was killed by a drunk driver as he drove home from a performance in North Carolina a couple of weeks ago.
The heart wrenching tragedy of this is being felt throughout the Nashville comedy community.  Brian was just a guy everybody was pulling for.  There was no doubt he was going to "make it."
«Read the rest of this article»

The second installment of Comedy on the Cumberland returns to the Roxy Theatre on Tuesday July 20th at 7:00pm. Some of Nashville's funniest comedians will be in Clarksville to entertain you with Clarksville's very own Jim Gossett headlining the event, with assistance from Chad Riden, Brian Bates, and Brian E Kiley.
This show will benefit the Clarksville/Montgomery County chapter of the Red Cross with all proceeds going directly to the local chapter to continue to serve those in need. Time is running out to get your tickets to what is  going to be the funniest night of the summer. There are a limited number of tickets available so get yours soon! You can pick up tickets at the downtown branch of F&M Bank, or and at the Roxy Theatre's box office. The cost is $40.00 a person, or $75.00 for a couple.
«Read the rest of this article»

On Tuesday July 20th, at 7:00pm the Roxy Regional Theatre will host some of the areas funniest comedians who will perform as part of the "Comedy on the Cumberland," charity event. The proceeds from the event will go to benefit The Clarksville-Montgomery County Chapter of the American Red Cross. Comedy on the Cumberland is the brainchild of Hank Bonecutter, general manager of WJZM 1400 AM radio station, and a comedian.
Proceeds from the July 20th show will go to benefit the Clarksville chapter of the American Red Cross, with proceeds going directly to the local chapter. "The great flood of 2010 not only devastated Clarksville, it also devastated the Red Cross facility on Riverside drive", said Bonecutter, "While the flood waters have receded, during the flooding the local chapter of the Red Cross put a tremendous amount of their resources into our community, and they are still out there on the front lines helping families in need. So it was a no-brainer for us to do something to help them out, and so our next show is going to be for them". «Read the rest of this article»