Topic: Clarksville Family magazine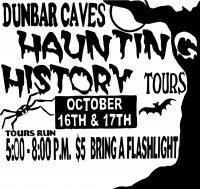 Once again Haunting History was a great success. Haunting History just finished its tenth year of performing skits inside the cave and bringing the public in to see them. The dreariness of Friday's weather did not stop 205 people from coming to go into the cave. Saturday brought 341 people. We had the event earlier in the month than usual because studies by APSU show that the Dunbar Cave bats begin their hibernation right on/around October 31. Two weeks earlier is a safer time to be making noise in the cave.
The Roxy Regional School of the Arts gave us 11 actors to do our three skits in the cave with Brendan Cataldo as their director. The Roxy Theatre also gave us a delightful gatekeeper.
«Read the rest of this article»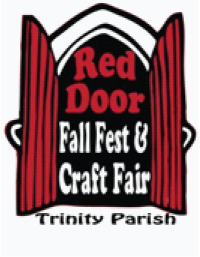 Trinity Episcopal Church & Clarksville Family Magazine are resurrecting what was once an annual event! The Red Door Fall Fest & Craft Fair. The event will be held on Saturday, October 10th, 2009, from 10:00 am – 4:00 pm at Trinity Church (317 Franklin Street). Come rain or Shine. There will be a lot of family friendly activities including:
Over 30 vendors
Pumpkin Chunkin'
Cake Walks
Photo Booth
Loads of children's games, some with prizes
Face Painting
Food (Home Made Brunswick Stew!
a Silent auction
And much more. «Read the rest of this article»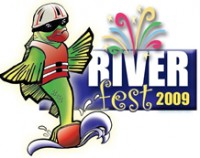 The weather on the second day of Riverfest turned out to be just as good as on the first. The full day of entertainment and wholesome family fun kicked off early with the Riverfest Regatta. The Regatta featured 26 teams racing custom made boats all crafted entirely from corrugated cardboard, Duct Tape, Silicone Sealant, Construction Adhesive, and paint.
This has to be one of the funnest events to watch during the entire festival. The shoreline was packed with people all on hand to cheer on their favorite teams.
«Read the rest of this article»