Topic: Clarksville firefighters
Clarksville, TN – Clarksville Fire Rescue Fire Chief Freddie Montgomery and Clarksville Mayor Joe Pitts will host Clarksville's annual ceremony honoring fallen firefighters and the victims of the terrorist attacks on September 11th, 2001.
The remembrance will be at 8:46am Friday, September 11th, 2020 at Clarksville's Fire Station No. 1, 802 Main Street. Face masks, social distancing and pre-event temperature checks will be required. The event will include placement of a memorial wreath, guest speakers and presentation of flowers to families of fallen firefighters.
«Read the rest of this article»
Clarksville, TN – The City of Clarksville has been awarded an federal Assistance to Firefighters Grant in the amount of $436,360 to purchase 71 new Self-Contained Breathing Apparatus (SCBA) units for Clarksville Fire Rescue firefighters.
The breathing devices being used by City firefighters, purchased with a 2002 AFG grant, are more than 14 years old and considered obsolete and out of compliance with the National Fire Protection Association standards.
«Read the rest of this article»
Conditions improve after rainfall, cooler weather
Clarksville, TN – Clarksville Mayor Kim McMillan has lifted the burn ban that had been in effect for the City of Clarksville since October 31st.
The lifting of the ban means that reasonable outdoor open burning is once again permitted in all areas inside the city limits.
«Read the rest of this article»
Crew will help in aftermath of wildfires that struck Sevier County
Clarksville, TN – The City of Clarksville has sent six firefighters to East Tennessee to help battle fires that have ravaged Gatlinburg and Pigeon Forge.
Fire Chief Mike Roberts said the local firefighters from Clarksville Fire Rescue volunteered for the duty and by 1:00pm Tuesday were headed to join crews in Sevier County.
«Read the rest of this article»
Clarksville, TN – No home should be without smoke detectors and that's why local firefighters are making every effort to ensure that everybody has one.
The Clarksville Firefighter's Association local #3180, will be hosting a smoke detector giveaway on Saturday, February 22nd at Governors Square Mall.  The event is from 10:00am-2:00pm.
Firefighters encourage anyone who is without smoke detectors, or knows a family or household that is without, to come to this event and get one while they last.
«Read the rest of this article»
Clarksville, TN – Clarksville Firefighters will be out in full force this Labor Day weekend as the annual MDA Boot Drive is underway now through September 2nd.
In conjunction with the annual MDA telethon, raising money and awareness for Muscular Dystrophy, Clarksville Fire Rescue personnel will be at Wal-Mart on Fort Campbell Boulevard, Wal-Mart on Madison Street, and Wal-Mart on Wilma Rudolph Boulevard, Kroger on Dover Crossing Road, Kroger on Lowes Drive, Kroger and Dollar General Market on Madison Street, and Big Lots on South Riverside Drive in Clarksville collecting money from 11:00am to 3:00pm.
«Read the rest of this article»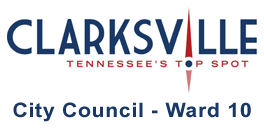 Clarksville, TN – Clarksville Police – In my June 9th report I mentioned that I tried to add 8 police officer positions for 2014 (4 in the 3rd qtr./4 in the 4th qtr.). That effort failed in a 6-6 tie vote in which Mayor McMillan voted "no" to kill the amendment.
It initially appeared the cost might have made a possible vote difference at almost $228,000 to add these officers. I made another effort to add officers by requesting five (5) positions in the 4th qtr. of the 2014 budget. The cost was reduced by almost half to $115,070 and I hoped that might sway a vote for support. «Read the rest of this article»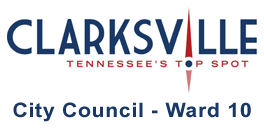 Clarksville, TN – The council met in a shorter budget special council session (about 4.5 hours) after first conducting the required executive session.
Executive Session – An interesting topic of the executive session was Mayor McMillan's submission of her nominees for the Clarksville Ethics Commission.
After seeing the nominee list and doing some homework, I asked the mayor to affirm that at least one of her nominees (Pastor Willie Freeman) is a financial donor to her 2014 mayoral re-election campaign.  She confirmed this was true. «Read the rest of this article»
Clarksville, TN – On Friday, March 29th, five new firefighters were sworn by Clarksville Mayor Kim McMillan during a short ceremony at City Hall.  The five new firefighters who took the oath to protect and serve the residents of the City of Clarksville were Garrett Hogan, Tim Joyner, Cole McWhirter, Brandon Powers and Matt Cunninghan. Their family and friends were on hand to witness the ceremony.
These five new recruits went through intensive testing to make sure they were the right applicants for the job.
«Read the rest of this article»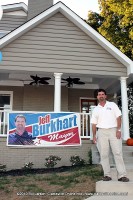 On Friday, October 1, Jeff Burkhart welcomed the community on a picture perfect evening to celebrate the grand opening of his headquarters located at 1310 Madison Street. More than 400 people came through to talk to Jeff about his platform, eat and tour the headquarters location. "It took a lot of effort from many people to put the barbecue together and I greatly appreciate them. It was well worth it to meet all of the new people and thank those who have been supporting me," said Burkhart.
The Clarksville Firefighters supplied the meat and did all of the cooking while other volunteers brought side dishes, as well as helped to set up and clean up for the event. "I want people to know that I am accessible to discuss any questions or concerns they might have," stated Burkhart at the barbecue. «Read the rest of this article»