Topic: Clarksville Hope Pregnancy Center

Clarksville, TN – On Saturday Hilldale Baptist Church played host to third annual Unity Day celebration. The goal of Unity Day is to build a stronger community by recognizing and joining together religious, governmental and business leaders in fellowship.
Unity Day was founded by Treva Gordon, the owner and publisher of the Convenient Shopper Magazine. "I was watching an awards show on television and I was so inspired by the way they honored the pop star's and the rap artists. It was wonderful; they had the gift bags, bling bling, the limos, and everything that went with it. That was awesome!" she said to herself.
«Read the rest of this article»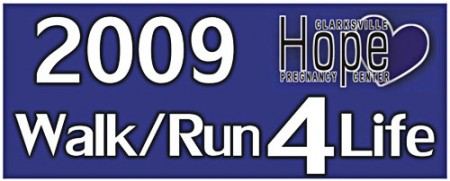 The Friends of Clarksville Hope Pregnancy Center are sponsoring their 2009 Walk/Run 4 Life on Saturday. The event consists of a 5k (3.1 mile) run, or a 1.5 mile walk. There is a $35.00 entry fee for each runner, and no fee for walkers who must collect pledges. Each walker collects pledges from supporters who then mail them in after the race. The race will be held on Saturday May 16th 2009 and start at the Hope Pregnancy Center (325 North Second Street). Registration starts at 8am. The Walk/Run starts at 9am.

Even if you are not the fastest runner, you still can be a winner! At the event or when you register online, you will predict the time it will take you to finish the run, and the person closest to their predicted time will win a FREE pair of running shoes from R3 Running. This is a wonderful even for all ages and athletic abilities.