Topic: Convicted Felon Going Armed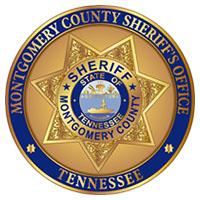 Clarksville, TN – On Tuesday afternoon, August 13th, 2019, Montgomery County Sheriff's Office deputies recovered a stolen vehicle and apprehend a man with multiple warrants on file.
Deputies observed a stolen Dodge Journey traveling on Lylewood Road. When they attempted to initiate a traffic stop, the driver fled into the city, eventually abandoning the vehicle in the 2400 block of Fort Campbell Boulevard.
He then fled on foot into a neighborhood where deputies were able to take him into custody.
«Read the rest of this article»
Montgomery County Sheriff's Office (MCSO)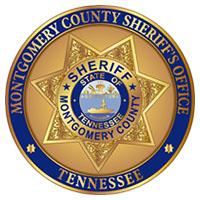 Clarksville, TN – Fugitive Erastus James Mummery, age 34, was apprehended by the Montgomery County Sheriff's Office (MCSO) on Saturday, November 24th, 2018.
Deputies received a tip he was located at a home in the 4500 block of Bartons Creek Road. Mummery was taken into custody after leading deputies on a short foot pursuit through a field behind the residence.
One deputy was injured during the foot pursuit. He was treated by Emergency Medical Services at the scene. No one else was injured during the pursuit.
«Read the rest of this article»
Clarksville Police Department

Clarksville, TN – Clarksville Police report a man who walked into a Cash Express, 989 South Riverside Drive, with a double barrel shotgun and demanded money was in-custody within 20 minutes of the robbery.
On Wednesday, September 12th, 2018 around 5:17pm Officer John Matos was on routine patrol and saw a man running from the area of 989 South Riverside Drive carrying a shotgun and entering a maroon SUV.
«Read the rest of this article»

Clarksville, TN – On Saturday, February 13th, 2016, at 3:36am, Clarksville Police investigated a report of gunshots on Jockey Drive. Officers discovered four men in a nearby vehicle with two pistols and a rifle in plain view inside the car. A police canine search located a third pistol in a nearby field.
Bullet casings recovered at the scene matched the calibers of the weapons found inside the vehicle. Nearby cars and at least one apartment door were discovered to have bullet holes.

«Read the rest of this article»

Clarksville, TN – On May 17th, the Clarksville Police Department responded a male subject waiving a gun around at Tiny Town Road in front of Publix near the intersection of Peachers Mill Road.
Darren Antonio Smith was booked into the Montgomery County Jail and hasn't made bond as of the time of this updated release.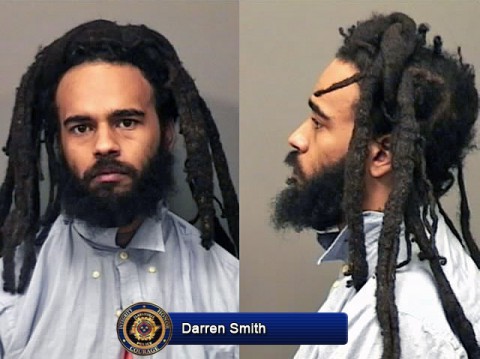 «Read the rest of this article»

Clarksville, TN – A joint effort between the Clarksville Police Department and Montgomery County Sheriff's Office put two burglars behind bars.
Investigations by Detective Chris Nolder, Detective Tracy Woodruff, and Investigator Steve Heise lead to development of Shane Androws and Taryn Baggett as suspects in a string of residential burglaries occurring in the city and county.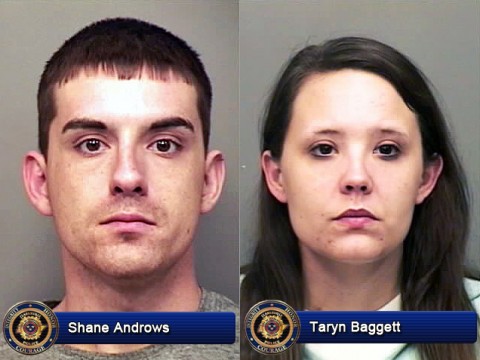 «Read the rest of this article»