Topic: Costumes of the Civil War
The Second Annual Friends of Fort Defiance Civil War Ball and Dinner was held at Smith-Trahern Mansion, on Saturday, November 13th.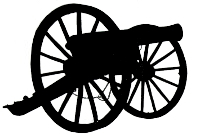 Having never attended a civil war ball before, both my husband Bill and I had little idea of what to expect. Of course, we knew that everyone had to wear period dress and that dinner would precede dancing. Other than that, we were clueless.
We arrived just before the beginning hour of 5:30pm in a soggy rainstorm that was not conducive to wearing a full-length formal gown. My search for the gown had covered three cities and about 75 hours of web searching before I finally settled on a floor-length deep brown strapless gown with a pick-up skirt from Bridal Warehouse in Rivergate. I covered my aging shoulders with a gold sequined wrap centered with a sunray-pointed gold pin with a brown gem at its center. My shoes were strappy copper heels—and I forgot to wear my elbow-length gloves!
«Read the rest of this article»