Topic: Councilor Jim Doyle
"Sued for a half million dollars for speaking out…"
"This ordinance is detrimental to the community…"
"The City Council 'rubber stamped' the mayor…"
"I don't think they have a plan…"
"Our Leadership doesn't want to listen to us…."
"CHA is a shadow, not a voice…"
"Preying on minority communities…"
"I've never been to a public forum where the public couldn't speak…"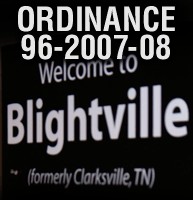 This is what representatives from the United States Department of Justice, the Department of Housing and Urban Development, and the Institute for Justice  heard when they came to Clarksville Thursday to listen to community concerns about the about the city's controversial redevelopment plans. Seventy people participated in a fact-finding meeting at the New Providence Community Center on Oak Street sponsored by the NAACP and the Urban Resource Center.
Walter Atkinson, Senior Conciliation Specialist with the U.S. Department of Justice Community Relations Service (Southeast Region IV), in stating that the meeting was "to hear community concerns," said his role was in part to try and avert "litigation."
"I am here to listen and observe," Atkinson said, noting that it was letters from NAACP Chapter President Jimmie Garland and Terry McMoore of the Urban Resource Center that focused federal attention on this local issue. Atkinson had been "in communication" with Mayor Johnny Piper and with the Downtown District Partnership Board. Piper, DDP members and most sitting City Councilors did not attend this meeting. Jim Doyle, who was not re-elected to his Ward 8 seat, along with newly elected councilors Candy Johnson, David Allen and Jeff Burkhart did attend the meeting and spoke with the Ward 6 constituency. «Read the rest of this article»
The City Council Finance Committee Tuesday rejected Ward 10 Councilor Jim Doyle's request for $80,000 in municipal appropriations to assist the local Red Cross in acquiring an emergency response vehicle. The Red Cross ERV and all of its equipment was burned to rubble by an arsonist, and insurance on that older vehicle fell far short of replacement value.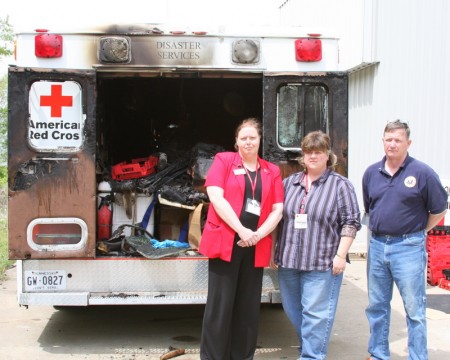 Red Cross Executive Director Linda McCoy, Health and Safety Director Patricia Brown, and Emergency Services Director Cecil Stout stand before the charred ruin of the emergency response vehicle.
Since the rejection of the request must still come before the council in executive session, tonight Red Cross Executive Director Linda McCoy, Emergency Response Director Cecil Stout, and Logistics expert Mike Vogt will offer a presentation to councilors on the need for this vehicle and the impact its loss has had on the agency's ability to effectively respond in its service area. «Read the rest of this article»