Topic: Creation
Church-State watchdog group urges justices to require government neutrality toward religion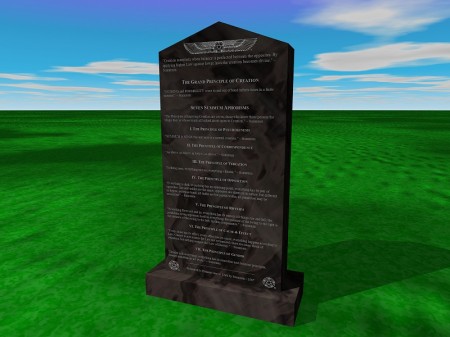 A Ten Commandments lawsuit to be heard this week by the U.S. Supreme Court inappropriately focuses on free-speech rights rather than church-state separation, says Americans United for Separation of Church and State. The justices will hear oral arguments Wednesday in Pleasant Grove City v. Summum.
The case tests whether Pleasant Grove City, Utah, can accept a Commandments monument for permanent display in a local park while turning down a monument showing the tenets of another faith. The Summum religion sued the local government after its display was rejected.
The 10th U.S. Circuit Court of Appeals ruled that Summum had a free-speech right to display its monument next to the Commandments monument. «Read the rest of this article»
A travelling Fool takes his puppet stage to a desert planet. In this retelling of the myth, eating the apple is an essential step towards changing from puppet to human, and part of his plan from the beginning.


Way back in June 2006, some of the Haiku Challenge keywords were Tree, Apple, and Fall. That led me to the Adam and Eve story. Reflecting on what it is to be a stop-motion animator today led me to the main character – you've got to be a fool to do it, but you also have this godlike power to create characters and worlds.
«Read the rest of this article»