Topic: Crepes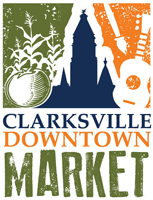 Clarksville, TN – The Clarksville Downtown Market opens at 8:00am Saturday, May 19th with approximately 60 vendors on hand to offer local fresh produce, baked goods, home décor, seasonal flowers and more. There will be live music by Lydia Walker.
For the kids. there will be be gardening crafts to participate in. Lousie Delgandio will be on hand to demonstrate how to make crepes. The first 600 visitors to the market, can visit the Clarksville Parks and Recreation booth to take home their very own market tote bag. There will also be give-a-ways handed out every thirty minutes.
The Clarksville Downtown Market will be open from 8:00am to 1:00pm every Saturday through October 19th on Public Square.