Topic: Criminal Attempt to Commit Aggravated Burglary
The men have been charged with Criminal Attempt to Commit Aggravated Burglary

Clarksville, TN – On January 14th, 2012, at 9:27pm, Clarksville Police Officers responded to a possible home invasion at 936 Kingsbury Drive.
When officers arrived, they found out that two men had came to the residence in an attempt to fight a 20 year old male that lived there. They tried to kick the back door in and were unsuccessful, so they went to the front door to try and make entry.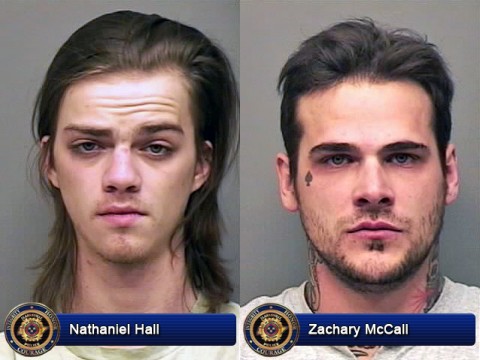 «Read the rest of this article»

Clarksville, TN – On November 27th, 2011, around 9:30pm, 911 received an odd call about a suspicious person inside of Walgreens, 1954 Madison Street.
The caller said a man inside of Walgreens appeared to be wearing some sort of facial make up to alter his appearance, wearing all black clothing, hanging around the pharmacy, went outside to smoke, was watching people, and then reentered the store.
«Read the rest of this article»
Juveniles admit to other Burglaries

Clarksville, TN – On Oct 12th, 2011, around 11:00am, 911 received a call from a witness that saw three juveniles breaking into a residence at 617 Kingsbury Road. Officers arrived in the area and located three juveniles walking down Kingsbury Road that met description given by and later confirmed by the witness.
The juveniles and parents were very cooperative during the investigation. Detective Duke was able to ascertain that the juveniles had planned to break into a residence and decided on the Kingsbury residence because they thought it was unoccupied.  They knocked on the door and when no one answered, attempted to enter the house through a window. «Read the rest of this article»