Topic: Cry Out America
Inter – prefix: (1) between, among, in the midst. (2) reciprocal. (3) located between. (4) carried on between.
Denominational: a religious organization uniting local congregations in a single legal and administrative body.
"When the government associates one set of religious beliefs with the state and identifies nonadherents as outsiders, it encroaches upon the individual's decision about whether and how to worship?Allowing government to be a potential mouthpiece for competing religious ideas risks the sort of division that might easily spill over into suppression of rival beliefs." ~~ Supreme Court Justice Sandra Day O'Connor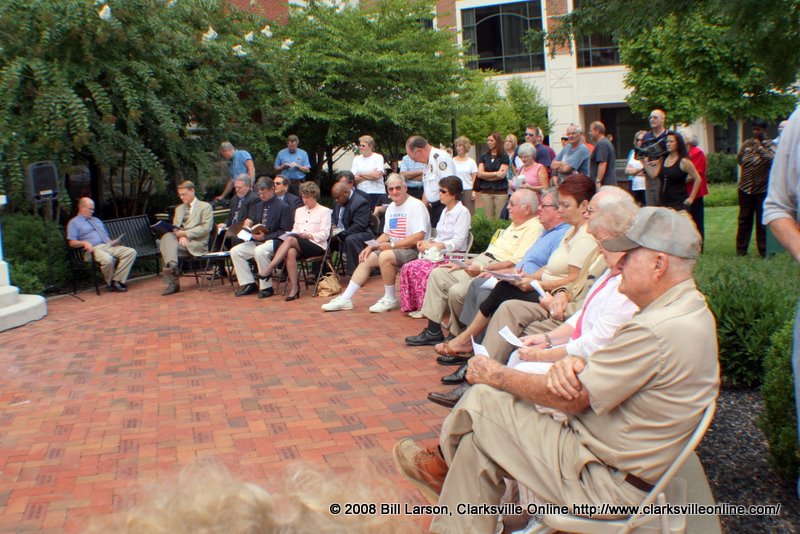 In downtown Clarksville on Thursday, September 11, congregants and legislators from varied Christian churches across the county gathered. The implied purpose of the gathering, part of a nationwide movement called Cry Out America, was to acknowledge the tragedy of September 11, 2001, an event that cost America the lives of 3,000 of its citizens on home territory, precipitated the war in Iraq and Afghanistan, which cost this country thousands of live lost or irrevocably maimed, and dug a deep hole of nearly insurmountable debt that our children will have to pay. «Read the rest of this article»
More than 100 Christians from across Montgomery County gathered at the old Montgomery County Courthouse Thursday at noon for a revival-style interdenominational Cry Out America ceremony linked to 9-11 memorials.
The hour-long ceremony was coordinated by Beverly Blackard of Little Hope Baptist Church, who became involved with the nationwide program while recently attending the Tennessee Baptist Convention, when participants were told of the need for a coordinator for Montgomery County. Blackard responded to that call, and  said "the Lord sent me here."
"God appreciates you being here in this public space," Blackard told the crowd."Terrorists tried to take over our country and they failed. We have all been affected by what we have witnessed." «Read the rest of this article»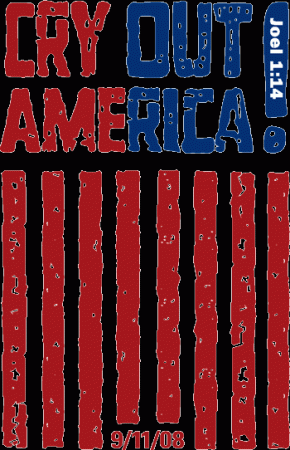 September 11. One of those seminal moments that scrolls a new signature in the pages of  American History.
This seventh anniversary of the 21st century "day of infamy" will be noted and memorialized Thursday by local officials and clergy from many of the city's churches, who will gather at the Montgomery County Courthouse lawn for a "Cry Out America" rally.
Numerous clergy and elected representatives will blend their voices to mark the anniversary of Sept. 11, 2001 with an interdenominational  "Cry Out America" prayer gathering on the Montgomery County Courthouse lawn from noon to 1 p.m.  The event will move to Madison Street Methodist Church in case of inclement weather. Similar gatherings, coordinated by the Awakening American Alliance, will be held across the country and are being publicized by Christian broadcasting networks nationwide. «Read the rest of this article»