Topic: Customs House Museum
An exhibit catalog chronicling the creativity and skill of Kentucky artist, Tim Lewis, has earned a first place award from the Tennessee Association of Museums (TAM). BLF Marketing and The Customs House Museum of Clarksville, Tenn., produced the 64-page publication entitled Time Made Real: The Carvings of Tim Lewis. Frank Lott and Ron Watson of BLF Marketing co-designed the award-winning catalog, which features a collection of Lewis' works and essays exhibited at Customs House Museum during 2008.
The Lewis publication is the third exhibit catalog produced by BLF Marketing and Customs House Museum to win top TAM honors. The catalog Olen Bryant: A Retrospective Reelfoot Lake: Tradition, Mystery & Lore won the top award in 2006.
TAM awards are intended to recognize, encourage, and promote excellence within the Tennessee museum community. The Lewis catalog won in the category of publications produced by medium-sized museums. Factors considered by TAM included content, design, writing, art/photos, appeal, quality, concept, originality and successfulness, as measured in published reviews or other documentation. «Read the rest of this article»

On Friday, April 24th, David Farmerie will be holding a lecture and discussion in the museum auditorium at 7 pm. This event, sponsored in part by the Arts and Heritage Development Council, is free to the public. The subject of David's talk will be his Seven Deadly Sins series. Farmerie says," When I was asked to create this series I was virtually unaware of the Seven Deadly Sins other than a vague recollection from my youth while attending Catholic school. After researching, I was amazed at what I discovered. They were not the oppressive doctrine that I was expecting. In fact, they seemed to have a profound place in our society today…and that was the beginning of the conceptualization". «Read the rest of this article»
TrainFest 2009 will be held Saturday and Sunday, May 2 & 3 at the Customs House Museum and the L & N passenger depot on the corner of Commerce and 10th Streets.
This is the fifth year of the festival that celebrates the history and traditions of railroading in Montgomery County.  Saturday admission is $5.00 for adults, $2 for students 6-18 and college students with ID. Children 5 and under, as well as members of the museum and the Montgomery County Historical Society, will be admitted free. Admission tickets can be purchased at either location that Saturday.  «Read the rest of this article»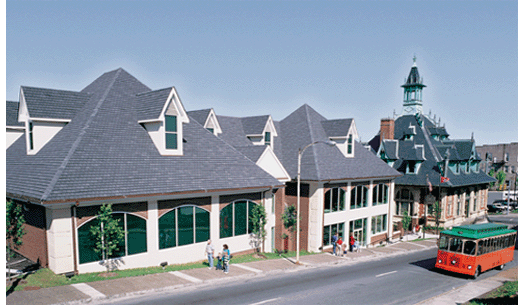 The "Cultural Calendar 2009" is now available at the Seasons Gift Shop in the Customs House Museum for only $5 each.  They feature photographs of 14 Clarksville artists work, and a host of wonderful Clarksville events listed for each month, with witty sayings, and clever quotes from famous folks.  They are in color and on a lovely coated heavy stock.
The proceeds go to the Arts and Heritage Development Council in Clarksville.  These calendars are very popular, and make lovely Christmas gifts that last the entire year.
This coming Monday, the Seasons Gift Shop (in Museum) has a 20% off sale on any one item.  The sale runs from 11 AM to 2 PM.
Natural or unnatural beauty paralyzed and captured in time from behind a camera lens. The current exhibit of photography at the Customs House Museum is a photographic response to the challenge to interpret subject matter metaphorically and or literally in answer to the question: "What does the spirit of light mean to you as a photographer?"
The Friends of Photography's current show, Spirit of Light, will be exhibited through February 15.  «Read the rest of this article»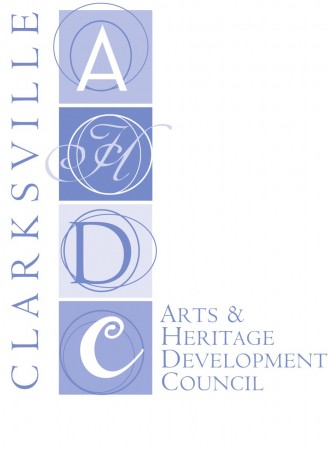 The Clarksville Arts & Heritage Development Council invites organizations seeking funding for artistic and cultural projects that benefit the community to apply for an Arts Build Communities (ABC) grant. A free grant workshop and information session will be held in the auditorium of the Customs House Museum, 200 S Second Street, in downtown Clarksville on Thursday, July 31, at 3:00pm for interested applicants. While this workshop is not mandatory for applicants, first-time applicants are strongly encouraged to attend.
Arts Build Communities (ABC) is a program funded by the Tennessee General Assembly and administered by the Clarksville Arts & Heritage Development Council (AHDC) in cooperation with the Tennessee Arts Commission (TAC). ABC grants offer financial support for arts projects in all disciplines such as dance, music, opera/musical theater, theater, visual arts, design arts, crafts, photography, media arts, literature, interdisciplinary, and folk arts. «Read the rest of this article»

Bring the family to A Tree-mendous Arbor Day Celebration at the Customs House Museum this Saturday, March 8 from 10:30 am – 12:30 pm. This event is sponsored by the Clarksville Tree Board. There will be kids' activities, a presentation for adults in the auditorium & free seedlings. The Customs House will also be waiving admission fees all day.
Help is needed to bag seedlings at the Museum on Thursday, March 6th, from 3 to 5 pm to prepare for the Seedling Give-a-Way.
Then on March 15, an Official Arbor Day Ceremony will be held at Barkers Mill Elementary School from 1-4 pm . Bring your shovels, rakes, gloves & wheel-barrows and volunteer for tree planting & mulching.
For more information or to volunteer contact Dottie Mann, the Tree Board Chair at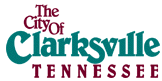 The Clarksville, Tennessee City Council met yesterday in an executive session that was led by Mayor pro tem Barbara Johnson. The meeting covered a variety of topics ranging from flood plain issues, zoning and even touched on eminent domain while not specifically addressing the recent blight declaration controversy. Some agenda items did not generate discussion and these are not covered in this report.
To view the full agenda, please see: The City Council's agenda page.
«Read the rest of this article»
In an intimate setting at the Customs House Museum Saturday night, The Cantrells delivered a toe-tapping concert performance of many of their unique blend of folk, fiddling and down-home music.
While the audience was small, enthusiasm for these performers was deservedly huge. The repertoire ranged from a rendition of Fats Waller's Honeysuckle Rose to a striking cover of Autumn Leaves, from a step in Appalachian Spring to This Quilt, a story song of a quilt and the "threads of time."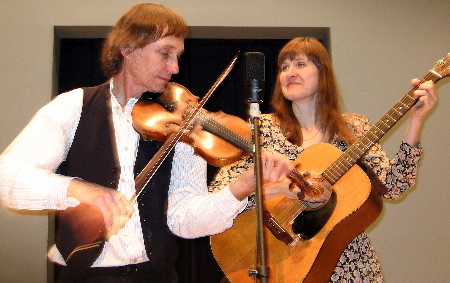 Al and Emily Cantrell
Al and Emily Cantrell (above), simply dressed (but with a splash of glittery buttons on Emily's dress) did what they do best: make music. No back up bands, no yards high stacks of speakers, just a guitar, a fiddle, mandolin, guitar and great voices. Nothing else was needed. «Read the rest of this article»
The Cantrells, who were featured in the Robert Redford film, A River Runs Through It (pictured left), will bring their unique blend of music and song to the Customs House Museum Saturday, November 17 for a free workshop at 3 p.m. and a concert performance at 7 p.m. Concert tickets are $5.00.
The Cantrells will share explore Tennessee's history of fiddling, share stories and play classic Tennessee tunes during the workshop, which does not require musical experience, just a love of the sound and the songs.
Al and Emily Cantrell cast a magical spell with their airy, joyful acoustic songs. Emily uses her voice as an instrument on soaring vocals like a country Joni Mitchell, while AL plays off her Martin guitar with spirited fiddling and a dazzling mandolin technique–his music weaves through her words as if the two were locked in an intuitive dance. «Read the rest of this article»