Topic: David Brandon

On Saturday evening the best in dance from across Middle  Tennessee converged on Austin Peay State University in the middle of Historic Downtown Clarksville, TN to perform in the Tennessee Association of Dance's Middle  (TAD) Tennessee Regional Gala. The 2010 Regional Gala highlights professional Dance Companies and University Ensembles  in the Middle Tennessee area. This years competition included performances from APSU's Dance Ensemble, Belmont University/Epiphany, Company Rose, Middle Tennessee State University, the Nashville Ballet, Nashville in Motion, Stillpoint Dance Theatre, and the Vanderbilt Dance Theatre.
The Gala was part of the Tennessee Association of Dance's 41st annual statewide conference which included a weekend of dance featuring master classes and seminars with nationally known dance artists.  It is their mission to ensure that dance is a vital and respected part of the life of all Tennesseans.
«Read the rest of this article»
There is one more show remaining in the APSU Spring Dance Concert at 2pm Sunday, Be sure to catch it!
Austin Peay State University's Center of Excellence for the Creative Arts and the Theatre and Dance Department are currently holding their 4th annual Spring Dance Concert. The program directed by Marcus Hayes features 13 works choreographed by the incredibly talented Dance Faculty at APSU, and their students.
I described last summer's dance concert as poetry in form and motion, and I stand by that description with the spring program. The student performers are incredibly graceful as they weave lithely back and forth across the stage in intricate patterns dictated by the music, and the joy in their souls.
«Read the rest of this article»
We've got magic to do, just for you. We've got miracle plays to play. We've got parts to perform, hearts to warm. Kings and things to take by storm. As we go along our way.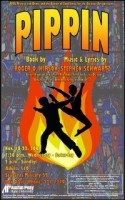 So begins the story of Pippin, a young man seeking his way in the world. This young man just happens to be the son of Emperor Charlemagne. Pippin knows with all his heart that there are great things in store for his life, but he has a hard time figuring out just what they may be. So he sets off to figure out the purpose of his life. Along the way Pippin is manipulated into a variety of situations by the mysterious Leading Player. Intrigue, plots to bring disaster! Humor, handled by a master! Romance, sex presented pastorally! Illusion, fantasy to study! Battles, barbarous and bloody!
The leading player is being played by Chris Hardin an assistant professor of voice and movement at APSU. He brings an intensity to the role worthy of Ben Vereen from the 1973 Broadway Production.
«Read the rest of this article»