Topic: David E. Simpson
The Customs House Museum and Austin Peay State University's Center of Excellence for the Creative Arts presents "Milking the Rhino" with Producer/Director David E. Simpson as part of the Southern Arts Federation's Southern Circuit Tour of Independent Filmmakers at the museum on Saturday, November 7th at 2 pm. Following a screening of his documentary, "Milking the Rhino," Simpson will engage the audience in a discussion about the film and his work as a filmmaker. Admission to the screening is free.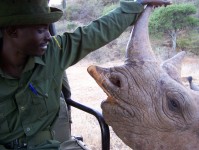 "Milking the Rhino" tells a nuanced tale of human-wildlife coexistence in post-colonial Africa. The Maasai tribe of Kenya and Namibia's Himba—two of Earth's oldest cattle cultures—are in the midst of upheaval. Emerging from a century of "white man conservation," which turned their lands into game reserves and fueled resentment towards wildlife, Himba and Maasai communities are now vying for a piece of the wildlife-tourism pie. Community-based conservation, which tries to balance the needs of wildlife and people, has been touted by environmentalists as "win-win." The reality, however, is more complex. "A rhino means nothing to me! I can't kill it for meat like a cow." And when drought decimates the grass shared by livestock and wildlife, the community's commitment to conservation is sorely tested.
http://www.youtube.com/watch?v=fbzWM6Kqbhk «Read the rest of this article»