Topic: David Sirota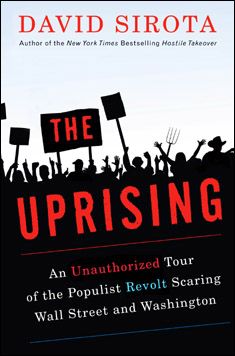 David Sirota, author of the acclaimed book The Uprising, will hold a reading, question and answer session and a book-signing/reception at Davis-Kidd Booksellers in Nashville on June 26 at 7 p.m. The event is sponsored by the Tennessee Alliance for Progress.
The private reception which starts at 8 p.m., will have music, food, wine and beer and David Sirota of course.  You can reserve a place at the reception by going to www.tennesseeallianceforprogress.org and make a $20 donation to TAP. 
The Uprising examines the re-emergence of populist politics on both the Right and Left in America. The book, published by Crown, was released on May 27th. The Uprising is all new, firsthand investigative reporting from across the country, showing how populism has become a dominant political force in both national and local politics.
Sirota, a nationally syndicated newspaper columnist, takes us far from the media spotlight into the trenches where real change is happening – from the headquarters of the most powerful third party in America to the bowels of the U.S. Senate; from the auditorium of an ExxonMobil shareholder meeting to the quasi-military staging area of a vigilante force on the Mexican border. «Read the rest of this article»